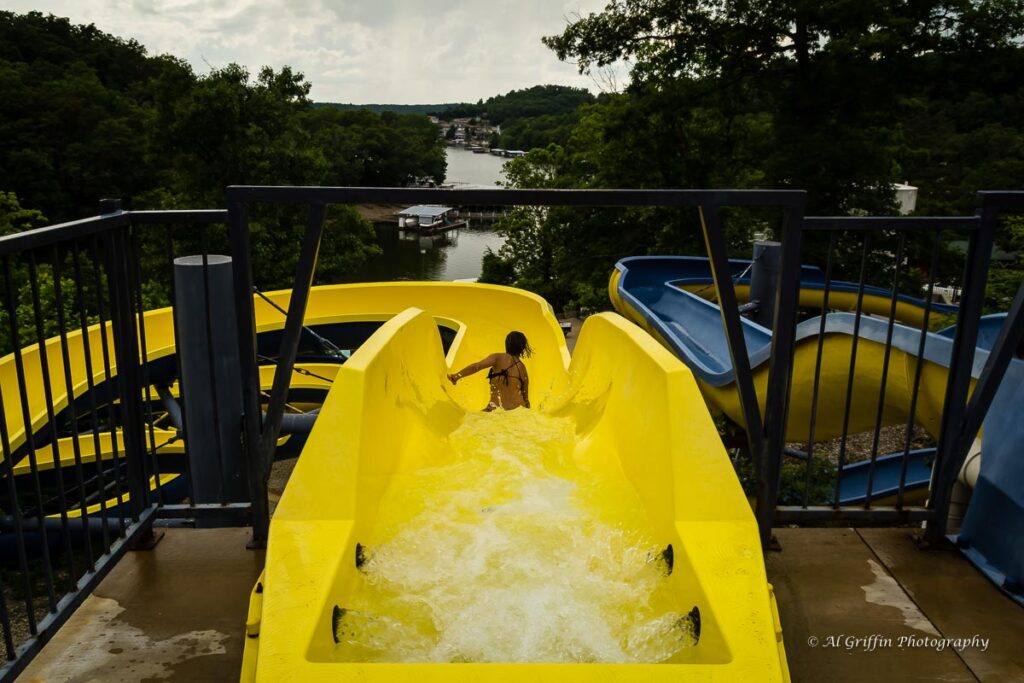 by Connye Griffin & LakeExpo.com
On the water's edge at the 38MM, tucked into a cove at the edge of one of the Lake's most picturesque bluffs, sprawls a family oasis like no other.
Bear Bottom Resort is renowned for a 700-foot waterslide, swim-up pool bar, live entertainment, fireworks, and the best nachos on the planet. Whether guests arrive by boat or land, with an RV in tow or on motorcycle, planning to stay overnight or for just an afternoon, Bear Bottom Resort owners Matt and Melissa Sutcliff welcome visitors with open arms – and good humor.
Bear Bottom has a reputation for the only weekly fireworks show at the Lake, each Saturday night, and for the most grandiose show of the year for the Fourth of July. Boats fill the cove and customers fill the patio for Matt's pyrotechnic skills. For many, the Fourth is synonymous with Bear Bottom.
Locals and weekend warriors know they'll find live music every Friday and Saturday night. In July, those who lease space in the RV campground or rent one of 10 vacation cottages will join daily visitors to hear Glory Days, Morgan Highway, Sweet Trouble, ChristiAna, Kricket Alley, or Alderwood. For August's line-up, fans can visit Bear Bottom's Live Music and Events page.
Perhaps best known for its water slide, clear water rushes along 700 feet of curved slide. Parents can join their children for the thrills and splashes, or they can wait for their children at the Poolside Bar, enjoying whatever beverage suits their taste. The Bear Bottom menu has plenty of excellent offerings, but frequent diners know: go for the nachos.
The Food: Bear Bottom's Nachos
Come hungry. These nachos are a volcano of goodness – the kind boaters might crave spontaneously while hanging out on a dock, forcing a boat ride to the 38MM.
A full order reaches dizzying heights of 12-14 inches. Each of five layers used to build that mountain of chips is layered by Bear Bottom's mellow chili, an ingredient that begins with freshly ground chuck and freshly chopped onions and bell peppers. After simmering for 2 ½ hours, the chili is ready for bowls and nachos.
Each layer also has a blend of shredded Monterey Jack, Aged Smoked Cheddar, and Provolone cheeses baked at 450º to deliver cheesy goodness without breaking down the chips' crispiness. Chopped lettuce and tomatoes create the peak of Mount Nacho, staying cool under a snowcap of sour cream. Salsa arrives on the side, and jalapeños are available to add a kick.
Single servings or the half order made for smaller groups and appetites have all the same ingredients, just fewer layers.
The Drink: The Miami Vice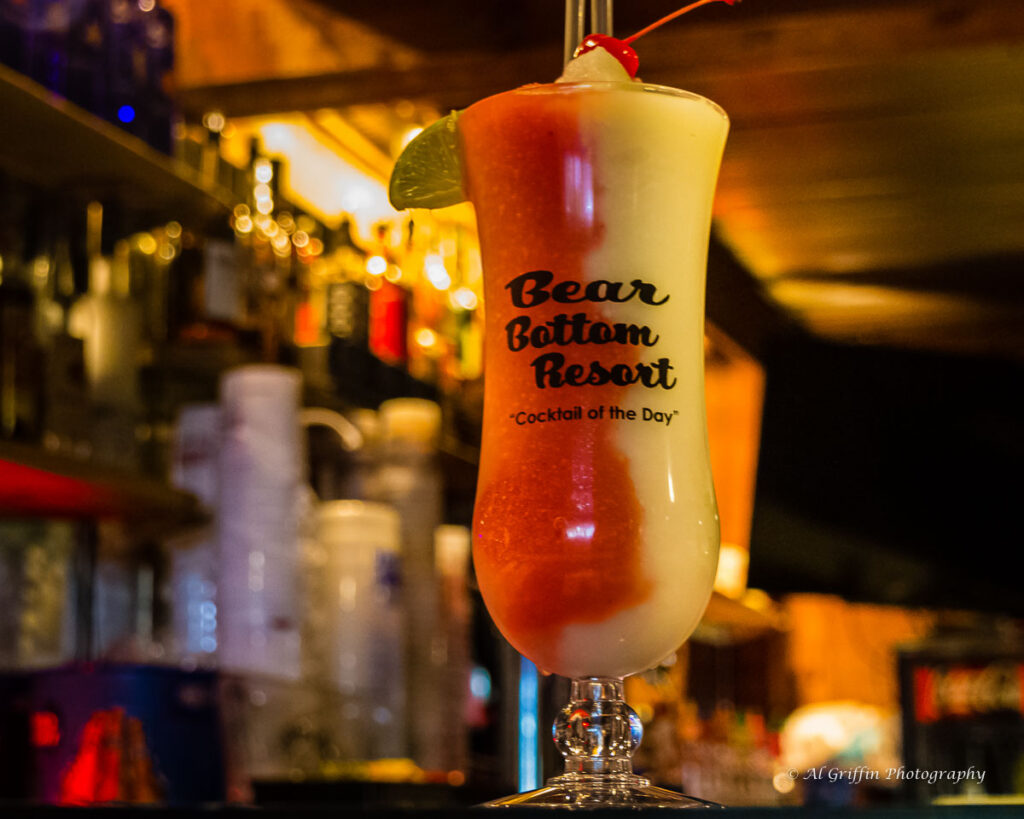 The Miami Vice is one-half Strawberry Daiquiri and one-half Piña Colada. Each pours side-by-side in a Hurricane glass, rich pink on one side, creamy white on the other. Over time, while sipping, the two colors and flavors blend, but sippers can stir them vigorously together with a straw to deliver refreshing strawberry-coconut flavors all at once.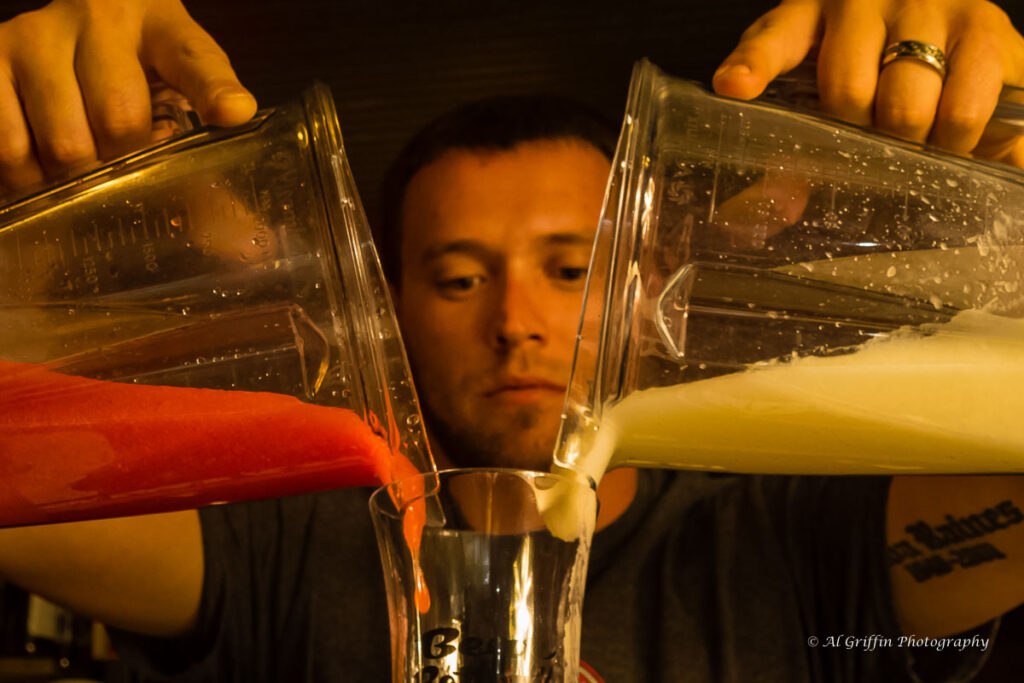 Fresh ingredients are essential: The Miami Vice begins with fresh puréed strawberries and freshly squeezed lime juice for both halves of the finished drink. Blend up a strawberry daquiri in one blender, a piña colada in another, and pour simultaneously for a picturesque and tasty frozen drink. (Making it at home? It's easier to just fill the bottom with one blend and top off the glass with another before serving.)
The Miami Vice, like many Bear Bottom beverages, can be made without alcohol for those underage or those who prefer fruity or frothy concoctions without adult ingredients.