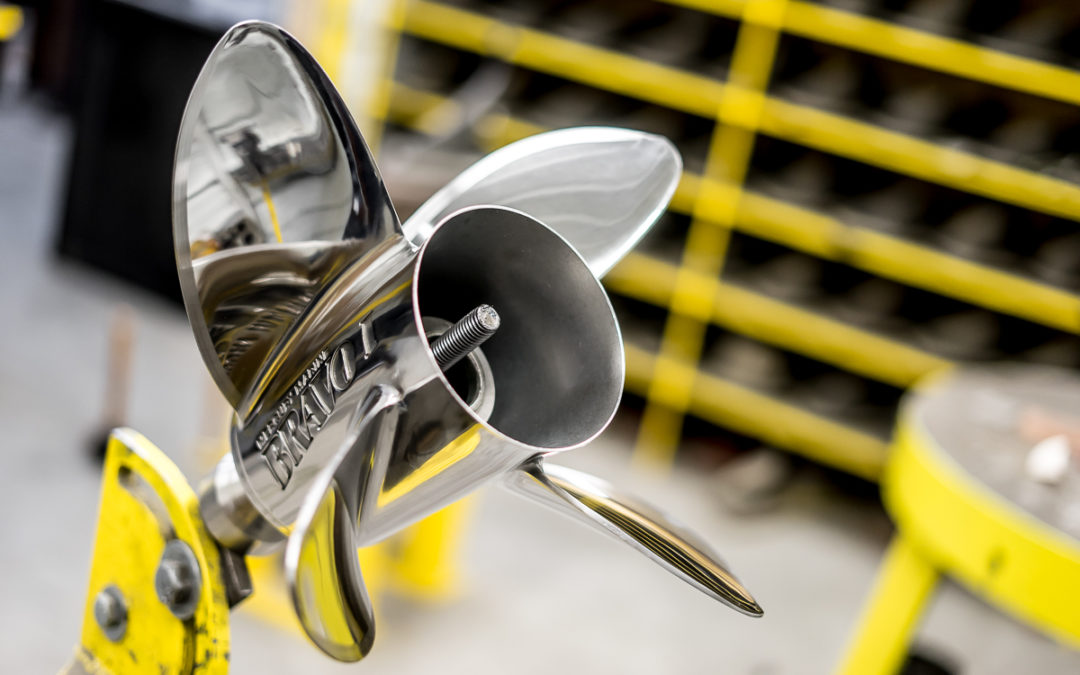 Every good propeller starts with a pro by Deanna Wolff Racing boats is about precision, so keeping a performance boat in tip-top condition is essential. When it comes to propellers, even the slightest fault in a prop blade can mean a 10-15 percent decrease in...
read more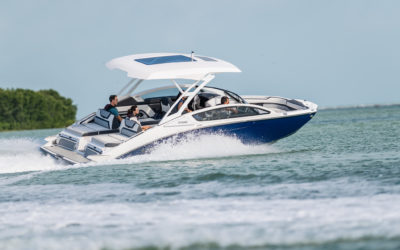 Jet sport boats have come a long way in recent years and the Yamaha 275SD is at the leading edge of new technology and design. With its sleek lines and impressive performance, you will feel like you are riding the wave of the future in this versatile craft. At 27...
read more
Enjoying a sundowner with friends or towing the kids on a tube, the Bentley 243 Navigator will turn heads on the Lake. This luxurious pontoon has all the creature comforts and looks good sitting still or underway. Have it rigged for quiet times on the water, or for...
read more
If you love to be pampered but also crave power and performance, read on. Versatile with comfort and super sport performance, the 2020 Formula 400 SSC has what it takes to spoil and thrill all aboard. The spacious layout of this 40-footer allows for multiple...
read more
by Tyler Sanders Aboard the Pursuit S328 luxury center console, whether you make a day of fishing, cruising or coved-out playing, you'll do it effortlessly. At 34'6" LOA and 12,160 lbs she's still nimble and athletic, giving you a dry ride and comfort in the roughest...
read more
Out on the Lake for dinner and a dance? It's possible with the Premier 290 Grand View 10 Wide Twin. This spacious craft sports an expansive foredeck that could easily double for a dance floor. At 10 feet wide this pontoon is unlike any other, with plush seating up...
read more
If you're a boat-owner, you might have hosted a few items from the iconic 12 Days Of Christmas song, last summer: you probably had some gold rings aboard, a few ladies dancing in the sun, drummers drumming (at least on the sound system), and maybe even some swans (or...
read more
Gone are the days of the one-trick "party barge" that shakes, rattles and rolls its way across the lake. The Starcraft SLS 3 possesses a Transformer-like adaptability and construction you can count on for increased strength and endurance — and a much...
read more
In the arms race for fastest personal watercraft on the planet, the RXT-X 300 has few rivals. The secret is a new hull and deck design that enhances wave penetration, shaves weight and lowers the center of gravity, making it more stable but also lighter....
read more
It's hard to be a center console these days. The utilitarian nature of the design demands that you should be able to do anything your owner wants at any time, whether it be bottom-fishing for big channel cats, sling-shotting the kids on a tube, hosting a...
read more
You've seen stock pontoon boats topping 50, even 60 mph at the Lake of the Ozarks Shootout. Now boost your own Lake-cred with this jaw-droppingly powerful, amazingly stylish tri-toon that can be packed with all the features you like. The 2700 Powertoon...
read more
There's nothing quite like the rumble and roar of a speedboat — fire up the ignition, push the throttles forward and savor the sonic rush. The Eliminator 28 is a thunder god in watercraft form, built for flashy performance and style. Svelte catamaran lines...
read more
We'd take our Deep Impact 399 Sport with shimmering bright-blue hull paint and have the seats done up in contrasting, diamond-stitched saddle brown. From there, we'd select the flush-mounted blender/juicer, the cabin air conditioning and the FLIR...
read more
It's not all about speed. OK, mostly it is, but hot looks and performance aside, the Sunsation 32CCX also excels as a family platform thanks to its versatile seating and nap-worthy cabin. The builder tapped powerboat racer and consultant Tres Martin to...
read more
This long, lean performance boat can be tailored to suit any taste or activity, from exterior graphics to interior seating to state-of-the-art electronics. But even more exciting is what lies below the surface: the build is primarily E-glass and Kevlar,...
read more
 You're looking at the boat that created the bowrider/cruiser hybrid class. The Chaparral 347 SSX seats six up front and sleeps two in a full-beam cabin that comes with a head/shower compartment and can be outfitted with a flatscreen TV, microwave and air...
read more
The return of the legend. The Black Thunder 46-foot V-bottom is renowned for its built-to-last/built-to-go-fast heritage, and the 2019 edition will utilize lighter-weight material and larger horsepower packages to leave gravity and drag behind. No two...
read more
This nicely sized pontoon boat was already established as a high-value family vessel with lots of interior space, cushy seating and three entry points for ease at the dock, beach or swimming hole. The updated 243 Navigator increases the style...
read more
Don't let the Afina's pontoon-mated-with-an-express coupe looks fool you. With the ability to go completely exposed or protected — the pilothouse doors, side windows and roof all open — this intentionally undefined craft offers all-season versatility and...
read more
You can take the shoreside mansion with you when you have the 50 Cantius. The Wisconsin-built express coupe has all the luxuries of home, if your home includes resort-like daytime entertaining features and refined overnight accommodations for four (two...
read more
The "NX" in the Fountain 39 NX could stand for "new crossover." The brand has a long history of producing world-champion raceboats as well as top-performing offshore fishing machines. Check both boxes on this center console mashup that features an...
read more
Talk about countless possibilities. The Seabreeze 253 provides easy entry into the pontoon life with an affordable (but still expertly designed) option offering all sorts of features and upgrades to make it your own. Choose from multiple floorplans and...
read more