Every good propeller starts with a pro
by Deanna Wolff
Racing boats is about precision, so keeping a performance boat in tip-top condition is essential. When it comes to propellers, even the slightest fault in a prop blade can mean a 10-15 percent decrease in efficiency and performance. A vibrating or damaged prop can appear visually okay but may still need to be fully reconditioned, and that's where Jesse and Casey Boaz at FJ Propeller West in Osage Beach really shine.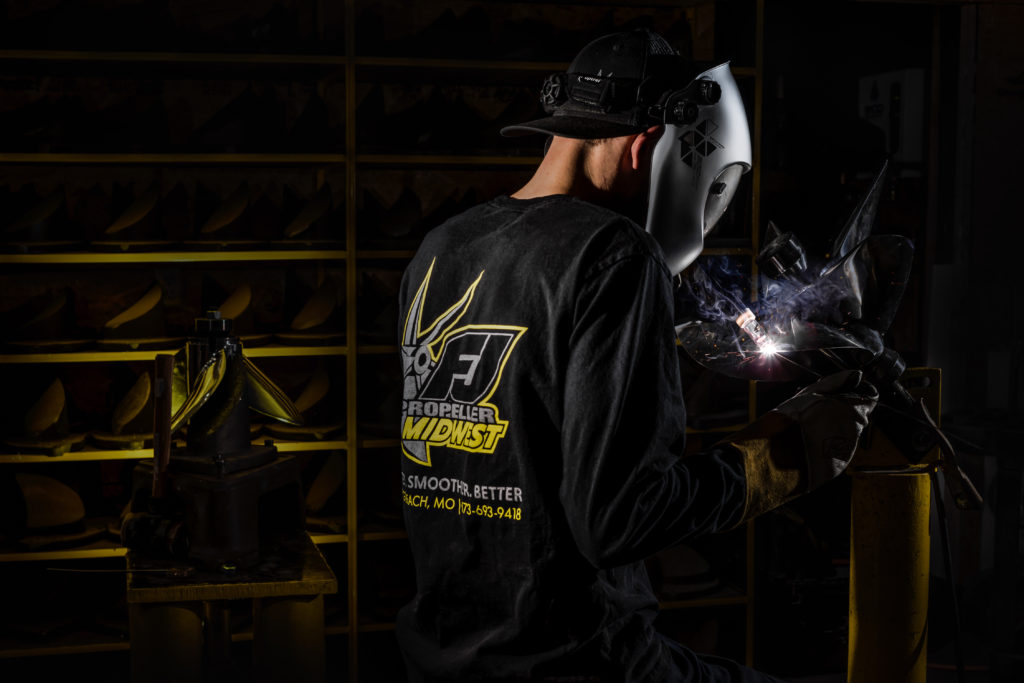 Casey is a welder by trade. Jesse, his son, has an extensive background in photography and graphic and web design. Casey has been racing performance boats since 2000, fueling his and Jesse's passion for precision—especially when it comes to propellers. FJ Propeller Midwest opened in June 2018. The name comes from a mutual agreement with the widely respected FJ Propeller located in Fort Lauderdale, Fla. There, Casey and Jesse trained with owner Jimmie Harrison's staff.
"I never thought I would be fixing propellers as a career, but I have developed a passion for it, and making every propeller that leaves our shop the absolute best that it can be fuels that passion," Jesse says. "It's always really cool after we fix a set of propellers or make some performance changes and people call you, all excited, while still on their boat, right after they ran them for the first time, to say that they got that extra couple miles per hour that they were wanting or that their boat is running so much better."
FJ Propeller's difference is their technology, which hones boat propellers to perfection. They use the most sophisticated 3-D scanning device available to scan props, which provides them with precise numerical data to analyze a propeller's exact issues and flaws – whether bends or cracks. "Amazingly, even propellers that are new from the factory are seldom 'true' because blades rarely match each other perfectly," Casey explains. FJ's 3-D scanning system can pinpoint the most minute differences that could quite possibly go unnoticed by the naked eye.
Casey's vast experience in racing boats gives him an "edge" on what they need to attain maximum performance and speed. "People always ask us what they can do to their props to perform better, and it can be whole range of things from tweaking cupping, adjusting pitch or diameter, thinning the blades, and sometimes moving from a 3 to a 4 blade or from a 4 to a 5 blade," Casey says. "The thing that is most overlooked is just making sure the propeller blades are perfectly true and balanced. This can sometimes gain 1 to 2 miles per hour and increase efficiency, which is vital in performance boating."
To ensure your propellers are properly pitched for peak performance, visit FJ Propeller Midwest at 1250 Runabout Drive in Osage Beach, or visit fjpropellermidwest.com. Jesse and Casey can also be reached at (573) 693-9418.