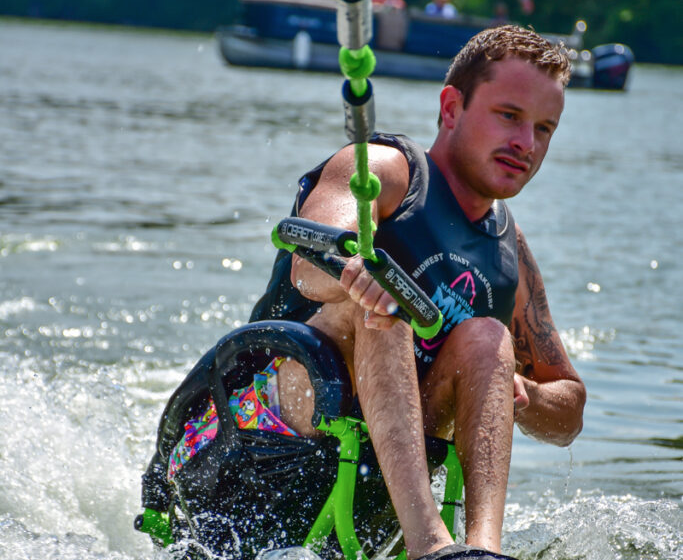 Wake For Warriors gives wounded military members a place to carve wakes in the sunshine and connect with other veterans. MarineMax is bringing them to Lake of the Ozarks. by Kate Robbins For millions of people, Lake of the Ozarks is a place for fun-in-the-sun and...
read more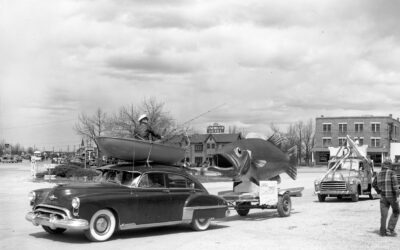 by Al Griffin & Nathan Bechtold In the 1960s, the Lake of the Ozarks truly came into its own as the Midwest's playground. Amid the ups and downs of the tumultuous decade, Lake of the Ozarks proved to be the perfect place for a summer getaway. The magnet of a huge...
read more
Homebuyers are finding this stretch of lakefront real estate appealing, for a host of reasons. Photo by Lake Shots Photography by Kate Robbins The real estate market has exploded at Lake of the Ozarks. In 2021, home sales were on-pace to show a 33% increase compared...
read more
Beneath these waters, a history lies… by Janet Dabbs, with additional information by Michael Gillespie (posthumous) Bagnell Dam was—and is—an engineering marvel, one that would supply electricity to Missouri and, in creating Lake of the Ozarks, bring economic...
read more
The family that founded Cobalt Boats just bought family-owned Summerset Boat Lifts at Lake of the Ozarks. Meet the St. Clairs. by Nathan Bechtold - all photos courtesy the Brooks & St. Clair families Ancient historians report when the Romans went to war, their...
read more
by Kate Robbins Carl Moyer has had a storied career, from leading a successful racing career to growing a thriving auto group. This summer, the long-time Iowa auto dealer made Lake of The Ozarks his second home.  Moyer always had a passion for cars. He got his start...
read more
by Emily Debert The number of breweries in America is at an all-time high. In January of this year, beveragedynamics.com predicted the total number of American breweries to exceed 8,000 in the not-too-distant future. For Lake of the Ozarks residents and vacationers...
read more
by Michael Gillespie The 1950s were interesting times at the Lake. Simple roadside attractions were the rule of the day, and that usually included a trip to the dam to sample the various amusements and souvenir shops, and maybe take an excursion boat ride. Those boat...
read more
The Lake's scenic sunsets and perfect photo ops are endless. SHORE readers shared some of their favorite shots from 2020. Got the perfect sunrise, sunset, or scenic Lake photo? Send it to publisher@shoreboatingmag.comWant your crew included in SHORE 2022? Send photos...
read more
by Connye Griffin & LakeExpo.com On the water's edge at the 38MM, tucked into a cove at the edge of one of the Lake's most picturesque bluffs, sprawls a family oasis like no other. Bear Bottom Resort is renowned for a 700-foot waterslide, swim-up pool bar, live...
read more
by Deanna Wolff If you're in the mood for delicious food, unique tropical drinks, and a breezy atmosphere with a spectacular Lake view, then the Paradise Tropical Restaurant and Bar on Lake of the Ozarks goes at the top of the short-list for lakefront dining this...
read more
SHORE readers sent us photos of friends and family enjoying the Lake of the Ozarks–their happy place–in 2020!Want your crew included in SHORE 2022? Send photos to publisher@shoreboatingmag.com
read more
Shorty Pants Lounge cooks up food and fun with a Cajun twist by Deborah Wolfe Tucked away in a gentle cove on Lake of the Ozarks' 22MM, the Creole-influenced Shorty Pants restaurant has been a favorite among Lake locals and visitors for more than 15 years. The sound...
read more
by Deborah Wolfe Palm trees and sandy beaches might not be the first things that come to mind when you think of the Lake of the Ozarks, but visitors to Franky and Louie's Beachfront Bar and Grill at the 10-mile marker will find a tropical paradise lush with beachside...
read more
by Emily Debert Whether ye be an old salt, sea dog, or a mere scallywag, Captain Ron's has something for every pirate at the Lake! Captain Ron's, owned by Ron Duggan, opened up in November 2006 and boasts 700 feet of Lakefront, two beaches, and a sand volleyball court...
read more
by Mike Kircher I have been a U.S. Coast Guard licensed captain at Lake of the Ozarks for 5 years. In that short time, I have learned that boat charters at the Lake are about more than just driving a boat. I am navigator (nobody knows where they are), tour guide, and...
read more
by Sara Halverson Home of the cove-out music festival AquaPalooza, the White Party, and one of the coolest-looking pools and swim-up bars at the Lake, Dog Days Bar and Grill sits on the 19 MM just west of the Grand Glaize bridge. While it's easily found by land and...
read more
by Deanna Wolff When you work like a captain, you need to play like a pirate. Lake of the Ozarks boaters can "get their pirate on" at Jolly Rogers Grub & Grog and The Kraken Shack, Fresh Seafood and Oyster Bar, in Rocky Mount – two terrific restaurants at one...
read more
Lake of the Ozarks has 30,000 docks, and local electricians are raising the bar to keep them safe. by Nathan Bechtold A group of electrical contractors at Lake of the Ozarks is banding together to improve dock electric safety. Decades ago, most docks had no need of...
read more
"Lake of the Ozarks" almost wasn't. by Deanna Wolff Lake of the Ozarks—the name uttered by untold millions of happy residents and eager vacationers every year—began its existence with an identity crisis. Drama permeated the process of naming this new lake in central...
read more
Two Missouri boys' journeys from selling cars to dream boats by Tegan Shockley & Nathan Bechtold Anyone who's had a business partner knows the huge upsides… and the potential pitfalls. But with Rick Ball and Steve Brink, it's been a charmed partnership from the...
read more
Iconic Marine Group owner Fred Ross leveraged his trucking logistics experience into growing performance boating titan Big Thunder, at Lake of the Ozarks. by Eric Colby republished with permission from Soundings Trade Only When Fred Ross was a boy, he stuttered. The...
read more