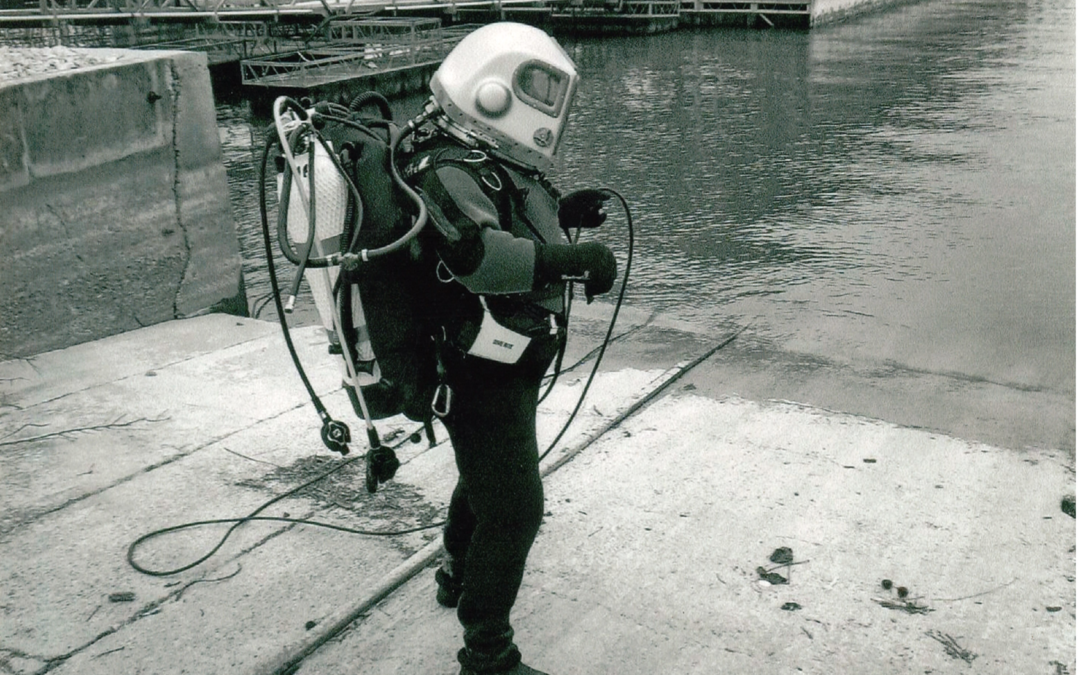 When big things sink in the Lake, Tim McNitt — aka 'The Walrus' — gets to float them by Nathan Bechtold & Al Griffin Ask Tim McNitt of Atlantis Dive & Dock Salvage for an interesting story, and you'd better get comfortable. When your job is diving for sunken...
read more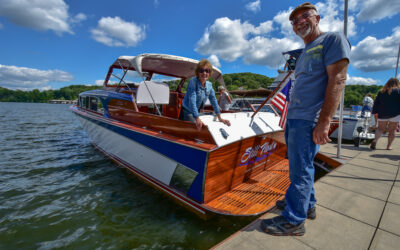 Keep your superyachts. These classic boat owners turn heads everywhere they go. by Kate Robbins From flashy catamarans to sleek cruisers, Lake of the Ozarks is home to some incredible boats. But for some, the best boats on the water are from years gone by. Antique...
read more
Ski shows, fast boats, and the Shootout is born by Al Griffin & Nathan Bechtold 1970s: The Ski Show Era The 1970s was the heyday of ski shows at Lake of the Ozarks; meanwhile behind the scenes, innovators and entrepreneurs were shaping the future of family...
read more
The Community Bridge turned a lot of "nowhere" into one of Lake of the Ozarks' hottest housing frontiers. by Nathan Bechtold Not very many years ago — in the early 1990s — the area of the Lake that is now known as Porto Cima and The Villages at Shawnee Bend was miles...
read more
by H.H. Meyer - Reprinted with permission of Bonnier LLC. Introduction by Michael Gillespie The following article, "Missouri's Lake of the Ozarks," appeared in the May, 1934, issue of the long-gone Motor Boating magazine. The author was H.H. Meyer, a writer and...
read more
We asked Shore readers, "How's your summer going?" Here's how they answered.Want your crew included in SHORE 2024? Send photos to publisher@shoreboatingmag.com
read more
Islands for visiting, living, and exploring on Lake of the Ozarks by Tim Snow Ask any true adventurer about the value of solitude in nature, and they'll tell you there's magic in the woods: a peace that can only be observed when no other humans are around. That same...
read more
Swim in a cave, and sink your feet in the sand at the Lake's newest, hottest (& coolest!) hotspot! Opened in 2022, The Cave — located on the 4 MM of the Niangua Arm, next to the Niangua Bridge — immediately became one of Lake of the Ozarks' most popular waterfront...
read more
by Kate Robbins, photos by Lake Shots Photography The name says it all at Paradise! Perfectly positioned on the 24 Mile Marker, this waterfront bar hits the spot with a tropical "vacation" ambiance and ample tasty food and drink options. (Bonus: fill up with the...
read more
by Ariel Kralina - photos by Lake Shots Photography It's one of the most popular and exhilarating attractions on the Bagnell Dam Strip, and it's perfect for every age. Malted Monkey means swingin', climbin' fun, and delicious American cuisine with a twist, too. George...
read more
So you've arrived at Lake of the Ozarks… and it's raining. Never fear! A curveball from Mother Nature shouldn't ruin your long-awaited Lake of the Ozarks vacation. And it doesn't have to: there's plenty of fun off the water! Here are some activities around the Lake...
read more
by Nathan Bechtold & Kate Robbins Whether you're the "nice and easy" wakesurfing type, or a "dude watch this" wakeboarder (or something in between), you know: good gear is a must. Thankfully, Lake of the Ozarks has top-notch surf shops with bro-favorite brands and...
read more
Power to the dock is a necessity for Lake life, but electricity and water don't mix. We asked local electricians what advice they'd give homeowners when it comes to their dock electricity. Grab your phone and snap a photo of the checklist below. Keep it handy, to keep...
read more
THE Dam Taco Bar! by Ariel Kralina - photos by Lake Shots Photography With an eye-catching neon pink exterior, it's hard to miss Neon Taco whether you're on the Strip, or on the water! Located right next to Bagnell Dam — at the 0 Mile Marker by water, and 1076 Bagnell...
read more
Remembering some of Lake of the Ozarks' most memorable places by Megan Mueller & Nathan Bechtold Like waves on the shore, Lake of the Ozarks restaurants come and go. Some last longer than others, but the good ones leave indelible memories behind, our senses of...
read more
by Stephen Klobucar, article originally published on themeateater.com (September 2019), excerpt republished with permission Our culture loves comebacks, Cinderella stories, and diamonds in the rough. Take for instance, the story of a sweater purchased at a North...
read more
by Kate Robbins "Let's go to Tucker's!" You'll hear that phrase ringing around Lake Ozark just before lunch and dinner, as Tucker's Shuckers Oyster & Tap has become a staple for casual, delicious dining at the Lake. Tucker's raised the bar for dining on the Strip...
read more
The Tesla of the boating world? Vision Marine's electric engines are powering big brands into the future.  The partnership's first commercial offering is the 22" H2E runabout powerboat under the Four Winns brand. Beneteau states it expects deliveries to commence in...
read more
by Nathan Bechtold A new luxury condo community is coming to the Lake of the Ozarks, and here, the developers say they are focused on quality over quantity. Already under construction, Havens at Four Seasons, located in the Village of Four Seasons, is a small, upscale...
read more
No doubt, some special evenings call for gourmet dining. But typically, when you go out to eat, you crave two things: familiarity and excellence. At Roxie's Roadhouse on the Lake Ozark Strip, familiar American fare is crafted with a rare kind of excellence....
read more
The most unappreciated, unwanted, thrown-back fish may just be the next one you should try catching. These anglers fish outside the mainstream. by Brent Frazee One man's trash is another man's treasure. We're talking about trash fish here—you know, the nongame fish...
read more
Riggs Request offers Lake homeowners peace of mind Whether it's the winter months or just a summer weekday, Lake of the Ozarks second-homeowners are forced to deal with a dilemma: who is keeping an eye on the Lake house when they're gone? When a home is vacant, issues...
read more