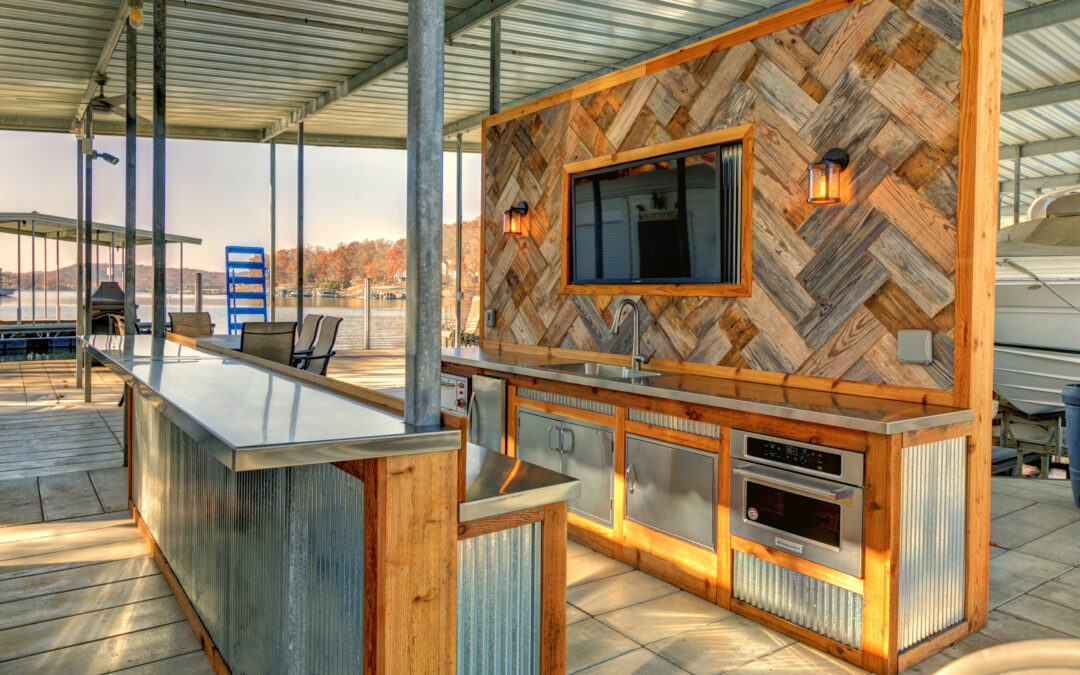 by Deanna Wolff Nothing complements dock life like a bar and/or kitchen! It's the perfect place to hang out with family and friends after a delightful day out on the boat. Enjoy refreshing lakeside cocktails at the bar or cook a mess of fresh-caught crappie in your...
read more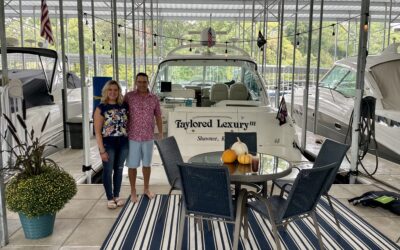 For many boaters, the weekend is spent on the boat or the community dock, where evenings jive and friendships thrive. They're called "live-aboards." by Christy Wagner, Lake Ozark The Miceks For Mike and Diane Micek, living the dock life started more than three decades...
read more
Shorty Pants Lounge cooks up food and fun with a Cajun twist by Deborah Wolfe Tucked away in a gentle cove on Lake of the Ozarks' 22MM, the Creole-influenced Shorty Pants restaurant has been a favorite among Lake locals and visitors for more than 15 years. The sound...
read more
by Deborah Wolfe Palm trees and sandy beaches might not be the first things that come to mind when you think of the Lake of the Ozarks, but visitors to Franky and Louie's Beachfront Bar and Grill at the 10-mile marker will find a tropical paradise lush with beachside...
read more
by Emily Debert Whether ye be an old salt, sea dog, or a mere scallywag, Captain Ron's has something for every pirate at the Lake! Captain Ron's, owned by Ron Duggan, opened up in November 2006 and boasts 700 feet of Lakefront, two beaches, and a sand volleyball court...
read more
by Mike Kircher I have been a U.S. Coast Guard licensed captain at Lake of the Ozarks for 5 years. In that short time, I have learned that boat charters at the Lake are about more than just driving a boat. I am navigator (nobody knows where they are), tour guide, and...
read more
by Sara Halverson Home of the cove-out music festival AquaPalooza, the White Party, and one of the coolest-looking pools and swim-up bars at the Lake, Dog Days Bar and Grill sits on the 19 MM just west of the Grand Glaize bridge. While it's easily found by land and...
read more
by Deanna Wolff When you work like a captain, you need to play like a pirate. Lake of the Ozarks boaters can "get their pirate on" at Jolly Rogers Grub & Grog and The Kraken Shack, Fresh Seafood and Oyster Bar, in Rocky Mount – two terrific restaurants at one...
read more
Lake of the Ozarks has 30,000 docks, and local electricians are raising the bar to keep them safe. by Nathan Bechtold A group of electrical contractors at Lake of the Ozarks is banding together to improve dock electric safety. Decades ago, most docks had no need of...
read more
"Lake of the Ozarks" almost wasn't. by Deanna Wolff Lake of the Ozarks—the name uttered by untold millions of happy residents and eager vacationers every year—began its existence with an identity crisis. Drama permeated the process of naming this new lake in central...
read more
Two Missouri boys' journeys from selling cars to dream boats by Tegan Shockley & Nathan Bechtold Anyone who's had a business partner knows the huge upsides… and the potential pitfalls. But with Rick Ball and Steve Brink, it's been a charmed partnership from the...
read more
Iconic Marine Group owner Fred Ross leveraged his trucking logistics experience into growing performance boating titan Big Thunder, at Lake of the Ozarks. by Eric Colby republished with permission from Soundings Trade Only When Fred Ross was a boy, he stuttered. The...
read more
Seasonal dishes, creative cocktails, and upscale-casual with a lake view. by Nathan Bechtold An evening on the Lake can be anything you want it to be, but when it comes to an elevated waterfront dining experience, there's only one place: 1932 Reserve. Formerly a...
read more
For nearly half a century, Poly Lift has kept boats—and the Lake community—afloat by Charlie Noland & Nathan Bechtold As a boat owner, it might seem like you don't really use your lift very often. You put it down, take the boat out, and then put the boat back on...
read more
FJ Propeller buys the iconic Hering Performance Propellers to create some serious synergy by Matt Trulio/speedonthewater.com A two-time offshore powerboat racing world champion, Casey Boaz, the co-owner of the CR Racing Team as well as FJ Propeller Midwest in Osage...
read more
How much truth lies in fiction? by Sara Halverson & Nathan Bechtold Will Lake of the Ozarks ever have a casino? To hear some tell it, the Lake has already had one. In the 1930s, Lakeside Casino was built by Union Electric after finishing the dam. The venue offered...
read more
The surprising truth about cold water that every boater should know by Sky Smith & Nathan Bechtold Summer is the season for boating at Lake of the Ozarks, but in many ways, nothing beats the weather of fall. Yes, fall soon turns to winter, and in the Midwest that...
read more
Shootout coverage by Jason Johnson & Matt Trulio -- republished courtesy of SpeedOnTheWater.com The Lake of the Ozarks Shootout has completed its 32nd year, and with 189 total runs by nearly 100 boats, the event was a success by any metric. By spectators'...
read more
Ha Ha Tonka singer and mandolin player Brett Anderson talks Ozarks roots, "Ozarkian" music, and their favorite place to be on the Lake. Interview by Nathan Bechtold (Editor's Note: Interview edited for brevity and readability.) Mention Ha Ha Tonka outside of Missouri,...
read more
Some boaters have known for years what they'll name their dream boat. For others, their new vessel's christening is the result of an agonizingly long debate. By any other name, would the ride would still be as sweet? Each year, Boat Owners Association of The United...
read more
Many people love bringing their Harleys to Lake of the Ozarks. Eric Miller's is built to float on it. by Ariel Thibodeau In the summer of 2016, Eric Miller's wife gave him a one-of-a-kind gift. Eric was at their home in Kansas City, Mo. while his wife Joleena and her...
read more
Dan Debert What I enjoy the most about the Lake is the diversity of people you encounter. You meet people from all over the country who enjoy the Lake. I have been coming down here my entire life. I've gone from enjoying weekends with my family as a kid, to working at...
read more