Remembering some of Lake of the Ozarks' most memorable places
by Megan Mueller & Nathan Bechtold
Like waves on the shore, Lake of the Ozarks restaurants come and go. Some last longer than others, but the good ones leave indelible memories behind, our senses of taste and smell rooting us so firmly in sweet memories of bygone days. From greasy spoons to fine dining, the list of iconic Lake of the Ozarks favorites is nearly endless. The memories of those who loved them are a tribute to the long-gone places that no longer serve food and drink, but whose neon "Open" signs seem to light up again, each time we get on the Lake, pass that old spot, and say, "Remember…?"
Greasy Spoons
There's something about a day on the water that makes greasy food like burgers, pizza, and BBQ nearly irresistible. Thanks to the fact that businesses can build right on the shore, the Lake has always had an abundance of delicious, down-to-earth dining options…
The Dummy
6.5 MM, Gravois Arm
The Dummy: not known for being the fanciest spot on the water, but rather for the community feeling it brought to customers. One of the more popular attractions of the restaurant, the metal dunking booth, became a hit for Mindi Sales and her family.
"We always took people there when they came into town, and we took them to get dunked," Sales said. "It became a big thing… everyone that came to our place wanted to go over to see Frank [the owner]."
Sales recalls her family's ritual: tying up on the carpet-lined dock, racing to the restaurant to eat her go-to (the cheeseburger), and getting a t-shirt to add to her collection. It read: "I was dunked at The Dummy!"
"[I think everyone loved The Dummy] because it was eclectic; it wasn't new and modern," Sales said. "It was just a good old-time place, everyone loved being dunked, the food was really good and Frank made friends with everybody."
Ozark Bar-B-Que
10.5 MM
Arguably one of the longest-standing restaurants on the waterfront, everyone knew about Ozark Bar-B-Que. Located on the 10.5 MM for 59 years, it was the perfect place to take a break from the boat and get your hands (and face) messy with ribs, wings, brisket and more. Their "Soon To Be World Famous Onion Rings" were as good as it gets, and they also served freshly baked pies!
Add all that to a boutique selling water essentials, and Ozark Bar-B-Que became a one-stop shop for good food and Lake merch. Lora Raymon and her family were frequent customers. They still reminiscing on the quality of food and service there. "When we got [to the Lake with our kids] it was a jump in the Lake without delay," Raymon said. "We'd hop in the boat, with flip flops and lake hair to go for the onion rings and limeade."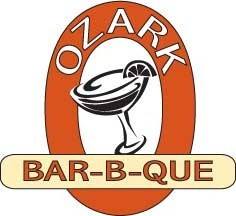 To this day, Raymon still has a collection of Ozark Bar-B-Que plastic cups and travel mugs, keeping alive the memory of one of the most popular barbecue joints the Lake has ever seen.
The Clown
1 MM, Glaize Arm
Maybe the most-talked-about, most nostalgic restaurant on Lake of the Ozarks. The Clown was a genuine boater's favorite, perched just alongside the Grand Glaize Bridge, below Topsider and The Poop Deck — two other wildly popular Lakefront hot spots. Float up to the docks, tie up for a few minutes, and soon you're eating what everyone swears was the absolute best burger they ever had, hands-down. The Clown's menu humorously told the back story: "The Clown is the result of a poor man's search for a tax deduction. It was built in 1960 from waterlogged lumber floating on the lake (began on Gopher Day and completed on Kick-A-Cocker-Spaniel Day). The idea for a floating drive-in was given to us by that eminent artist, Allego Bum (currently doing 20 years in Sing Sing for bum steering). The Clown seats 60,000 people, 60 at a time."
"It was just a fun place," said Kym Ebling, owner of The Clown. "Get in your boat, get some food, easy peasy."