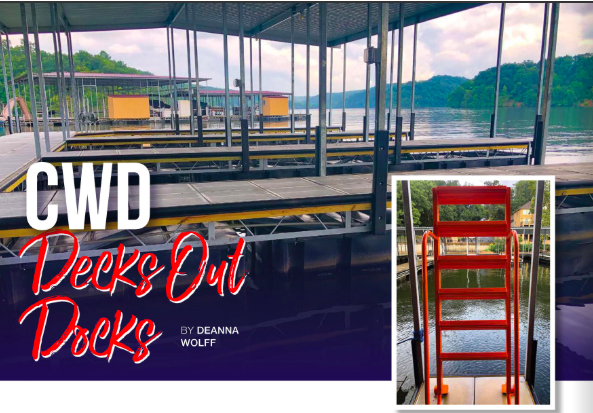 by Deanna Wolff
It's no secret that Lake Life is the Best Life. We live for those sunny summer days sitting on the dock with our toes in the water. And then suddenly we realize, "I think my dock needs an upgrade."
CWD Supply, just outside Osage Beach, has what dock owners need for their next upgrade.
WetSteps
Maybe you want more than just your toes in the water – it's hot out there and you want to take a dip! But your dock ladder makes it more of a chore than a joy. Made right here at Lake of the Ozarks, WetSteps are an innovative concept in dock ladders using an ergonomic design that allows users of all ages (pups too!) to easily enter and exit the water safely and effortlessly. With WetSteps, you walk out of the water: no climbing required!
Durable, lightweight, and constructed from all-aluminum materials and superior welds, you'll no longer have to struggle with lifting out your dock ladder for dry storage. Simply rotate the WetSteps ladder on the mounting brackets to make space for boat parking or to remove it. It's really that easy.
With a weight capacity of up to 500 lbs. and plenty of color and texture options for the steps and powder coating, you'll have the best-looking — and most functional — ladder on the Lake. Now you can spend your summer days having fun and relaxing with friends and family both in and out of the water.
Eagle Floats™
Long gone are the days of a few ugly Styrofoam blocks holding up your dock. Back in 2008, Ameren required dock foam to be encapsulated but since then, the science of dock flotation has gotten better and better. Without excellent flotation, after all, your dock is sunk!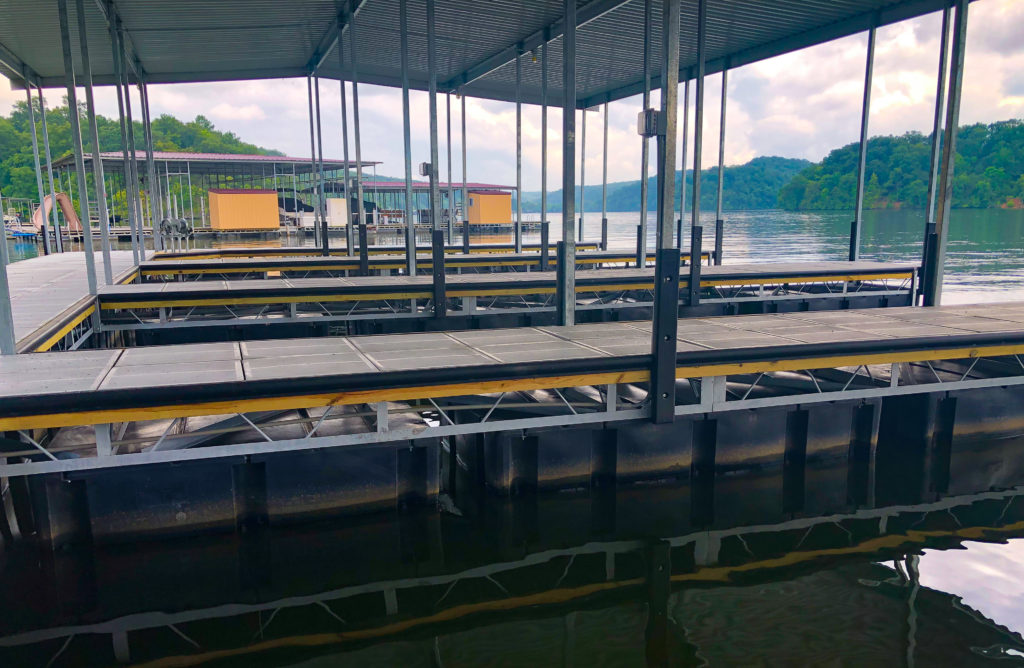 Since Lake of the Ozarks docks are constantly exposed to water and extreme temperatures, it's important to have the most durable encapsulated dock flotation available. Eagle Floats™ dock flotation blocks have been designed and tested by professional engineers and have passed the Seven Day Hunt Water Absorption Test, and puncture and thickness verification tests. Their cutting-edge computerized technology ensures that each block is properly foamed – and it's affordable.
Need customization? Eagle Floats™ has over 50 different block sizes and shapes and their 15-year limited warranty is among the best in the industry.
For information about Eagle Floats™ and WetSteps, contact the helpful and knowledgeable owners of CWD Supply so you can spend more time and less money having fun at the Lake!
Located at 500 Hwy D, just outside Osage Beach, CWD Supply is open year-round from 8:00 a.m.-4:30 p.m. Monday through Friday. (573) 348-0434