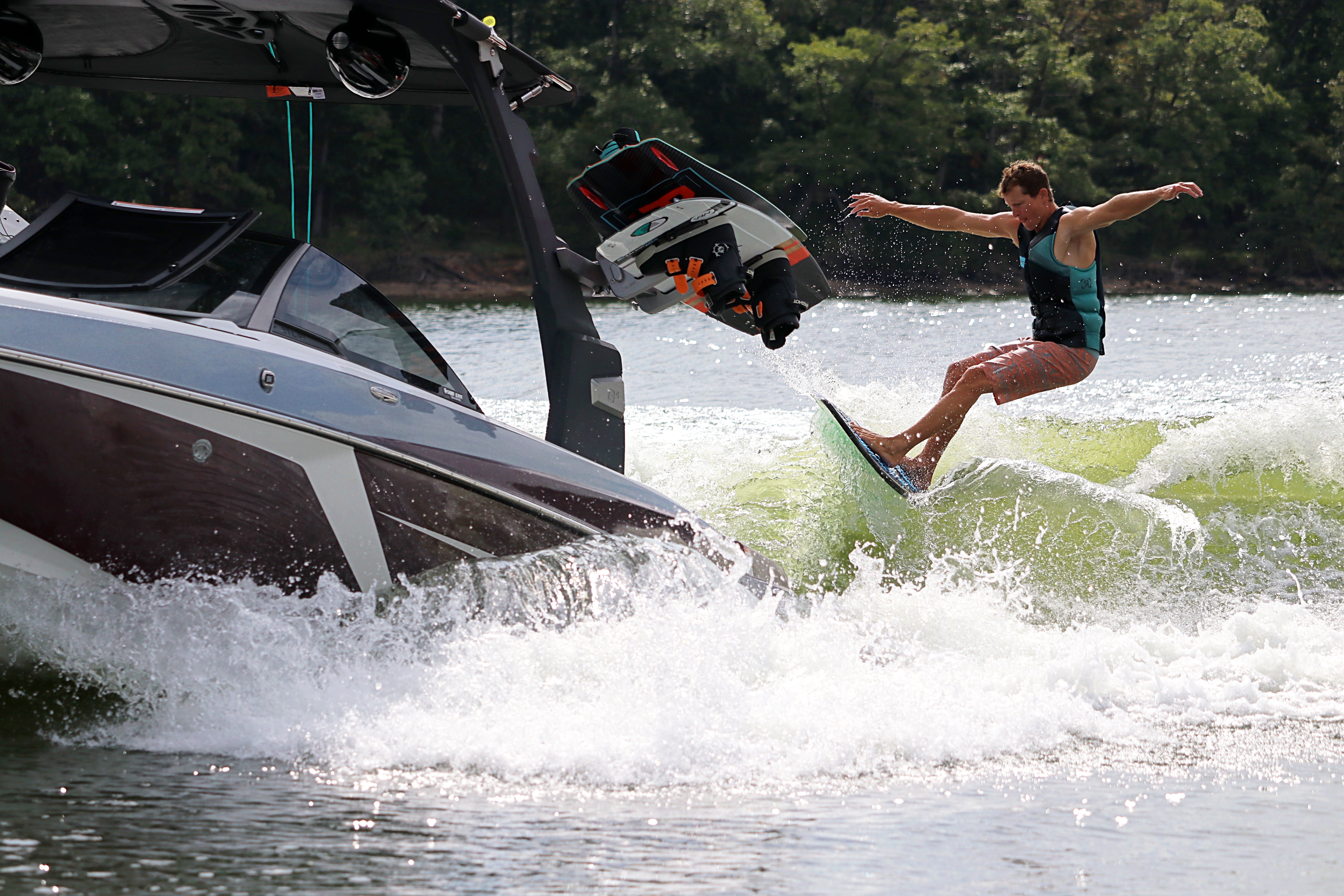 by Sydney Liesmann
The Lake of the Ozarks is known for its fantastic scenery and recreational boating; however, it may not be the first place enthusiasts consider for recreational watersports. That is about to change. Kirby Liesmann, owner of Kirby's School of Wake, captain, professional wakeboarder and instructor, has found that it's all about knowing where to look. He loves finding a new place to wakeboard, and has been fortunate enough to explore every skiable arm of the Lake. Kirby says he's learned no matter where you are, you can find calm water; it's just about having the tools and knowing how to look for that perfect cove.
Understand Ski Etiquette & The Law
Before loading up the boat and dropping in to wakeboard or wakesurf, it's vital to first understand basic ski etiquette and the laws surrounding it. These keep you and your skiers safe, help maintain peaceful and fun relationships with other boaters, and can save you from a pricey ticket!
Wakeboard and wakesurf boats are known for pushing out incredible waves. Whether it's to superman way up into the sky or to get pitted on a wakesurf wave, boaters and watersports enthusiasts need to remember that they are responsible for their wake, and this means making sure to stay at least 100 feet from anchored vessels and docks. Refer to the Missouri Boaters Handbook (you can find it online at www.boat-ed.com/assets/pdf/handbook/mo_handbook_entire.pdf) to get a refresher on the laws. Get the low down on lifejacket and ski flag usage and requirements, general boating safety and vessel requirements, reminders of where you can legally sit while wakesurfing, and more.
Seasoned skiers and the boating community appreciate the understanding of ski etiquette. It includes things like knowing not to circle around anchored boats on your turn around. Courteous boating means not wakesurfing past a chain of anchored boats, keeping your music levels and content respectful, and using best practice driving techniques. For more wakeboard and wakesurf etiquette tips, visit the Kirby's School of Wake YouTube page.
Evaluate your Surroundings
Now that you've got a good understanding of the rules, we can move on to the exciting part! The thrill of finding a good wakeboarding and wakesurfing spot is like the excitement of a child following a treasure map: X marks the spot! There's nothing that compares to hunting for—and finding—that perfect cove.
Things to consider on your search: