There's no off-season for fishermen here.
by Brent Frazee
From January through December, something's always biting on Lake of the Ozarks. The only reason not to wet a line is if there's too much lightning, too much ice, or too much work!
That's what I've found in my 40 years of fishing the big lake –and writing stories on my trips for The Kansas City Star. So here are some ideas for year-round angling: what to fish for, and what to throw.
January: blue catfish
Chris Jones, who runs the Catfish Pursuit Guide Service, chases blue cats year-round—even in the cold of January.
He fishes the Warsaw area of the big lake in winter, setting up within casting distance of deep channel holes where the blue cats spend the cold months. Then he will put out medium-action rods with 80-pound braided line and 10-ought hooks baited with fresh shad.
February: bass
For those who would rather be sitting in a bass boat than in front of a fire, February can be a good month.
I remember a trip I took with guide Jack Uxa in 2018. There was snow on the ground, and Uxa had to weave his boat through patches of ice to get to the point he wanted to work.
But we caught bass. Fishing in the North Shore area, we caught and released 10 largemouths by dragging plastic crawdad imitations and Ned rigs along the bottom. The key? Using a slow-motion retrieve to appeal to the sluggish bass.
March: paddlefish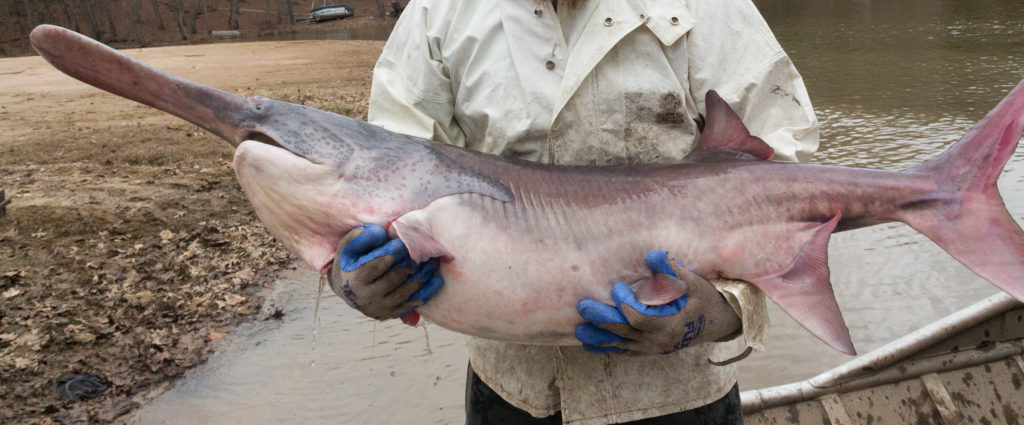 Dreaming of catching the biggest fish in the Lake? March is your month.
When the paddlefish-snagging season opens March 15, hundreds of fishermen flock to Lake of the Ozarks to chase monstrous fish.
They drag heavy weights and big hooks through the water in hopes of landing a paddlefish that can grow to sizes of 100 pounds or more.
The deep holes on the upper 40 miles of the Osage River arm offer the best opportunities. Early in the season, the Ivy Bend-Coffman Bend area is a hot spot.
April: crappies
April is the greatest month of the year for the casual fisherman at Lake of the Ozarks.
When the crappies move shallow to spawn, people who fish only a couple times a year make sure they get out. It doesn't take a high-dollar boat, high-tech electronics or the latest in rods and reels. I've seen fishermen of all ages and from all walks of life fill their stringers while fishing from the bank with old equipment and a bucket of minnows.
Look for the crappies along gravel banks and in shallow brush piles in coves. Use anything from minnows to plastic jigs, and you'll catch fish for the frying pan.