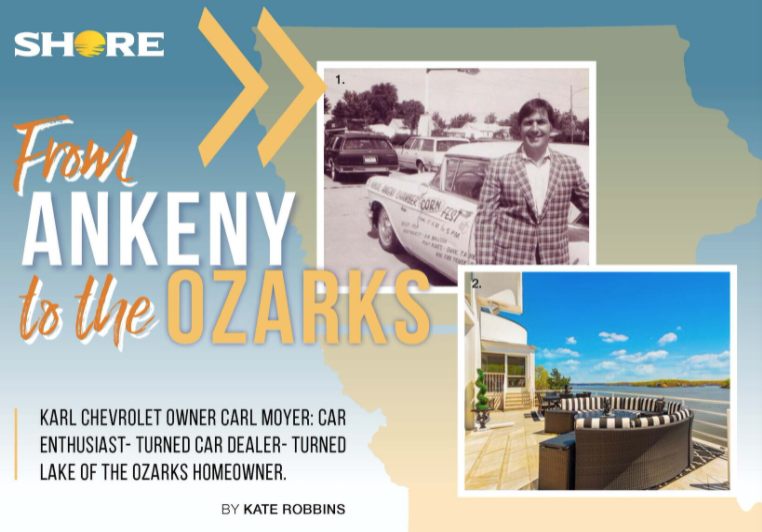 by Kate Robbins
Carl Moyer has had a storied career, from leading a successful racing career to growing a thriving auto group. This summer, the long-time Iowa auto dealer made Lake of The Ozarks his second home. 
Moyer always had a passion for cars. He got his start in the car sales business early, "I've always loved tinkering with cars, and when I was in school I'd buy a car and knock dents out of the fender, and sell it," he recalled. "At the time I worked for a guy with a Texaco gas station, and he'd let me park my cars on the corner and sell them. I'd spend 50 bucks on a car and get back a hundred."
Moyer soon advanced his career and became a salesman at a local Des Moines dealership. He brought his unflappable work ethic to this job as well. "I was always there working. They tell you, 'Your shift's over, you can go home.' I'd go back behind the building and wait for someone to drive behind the building and I'd be the first person to get to them," he said. 
In 1978, Moyer started Karl Chevrolet in Ankeny. At the time, it was a one-car showroom dealership in a little town. He was the only employee. He did everything from sales, finance and even washing the cars. Moyer continued to hone his craft and grew the dealership into what would eventually be the state's largest dealership. In recent years, Moyer has added Buick, GMC, Jeep, Dodge, Ram and Ford to his lineup of car dealerships — which make up the Karl Auto Group. 
Moyer is known for taking a different approach to advertising than a typical dealership. One of the things Karl Chevrolet has become known for is its Corvette Event. What started as a one-night outing has now grown into a three-day event with Corvette owners coming from all over the country. They have a particularly large following from the Lake of the Ozarks Corvette Club.  
"They're a great club and I love that they make the trip from the Lake each year, we always appreciate them coming out," Moyer said.
With a love of cars and a competitive streak, Moyer had always been passionate about racing. He started his professional drag racing career in 1986 and raced his pro-modified all over the country — winning two National Championships. He decided to retire in 2000 and shift his focus to his growing business. However, Moyer wouldn't stay off the track for long. In 2001, he started racing dirt trucks at the local dirt track in Des Moines. He loved getting to race with his two sons Bret and Brad every week. 
Even though Moyer doesn't compete himself, he is still very much involved in the racing community. Moyer and Karl Chevrolet sponsor and support many tracks and drivers across the country. Some of his more notable partnerships are the title sponsor of the Bristol Dirt Nationals, hall of fame late model driver Billy Moyer, NASCAR driver Johnny Sauter and even Lake favorite Billy Allen of Team Allen Racing. 
And this year Moyer, like many Iowans, made the leap to the Lake. He made a few trips here, years ago, but wanted to rekindle his love for the Lake, so he started building a home with O'Sullivan Developments in the iconic Shooters 21 Development. While Moyer waits for his home to be finished, he purchased an equally iconic home on the 13.5MM. Moyer can't wait to create more family memories at the Lake. 
"In life, you have to be thankful for the things you're lucky to have," Moyer said about being with his family. "Without them, I wouldn't be here."
Along with buying a house down at Lake of the Ozarks, Moyer says he's eager to gain more customers who call the Lake home, or home-away-from-home.
"I would welcome the opportunity to take care of anybody at the Lake who wants to take a chance on me," he said. As a brand new Lake of the Ozarks resident, Moyer is even offering a "Lake deal" for the Lake of the Ozarks community that takes an extra $500 off their best deal (just mention you saw it in Shore Magazine).
No word on whether this former racer will ever be joining in the Lake's biggest go-fast event, the Shootout. But you'll almost certainly see him enjoying his Lake home as you're cruising past  — just upstream of the Lodge of Four Seasons. And the Moyer family just might be the ones you tie-up next to on a sunny day at the Lake.