Wake For Warriors gives wounded military members a place to carve wakes in the sunshine and connect with other veterans. MarineMax is bringing them to Lake of the Ozarks.
by Kate Robbins
For millions of people, Lake of the Ozarks is a place for fun-in-the-sun and carefree recreation. But a new partnership between MarineMax and an organization called Wake For Warriors offers the Lake up as something unique: a place for veterans to find healing. 
Wake For Warriors was founded in 2012: a non-profit started by combat veterans to serve other veterans. A water sports enthusiast, founder Dave Deep a retired U.S. Marine Lt. Colonel knows a day on the water can be a balm for many wounds, and he wanted to offer his fellow veterans the same experience, free of charge.  In 2021 Wake for Warriors hosted 29 events in 16 states, serving 270 veteran riders.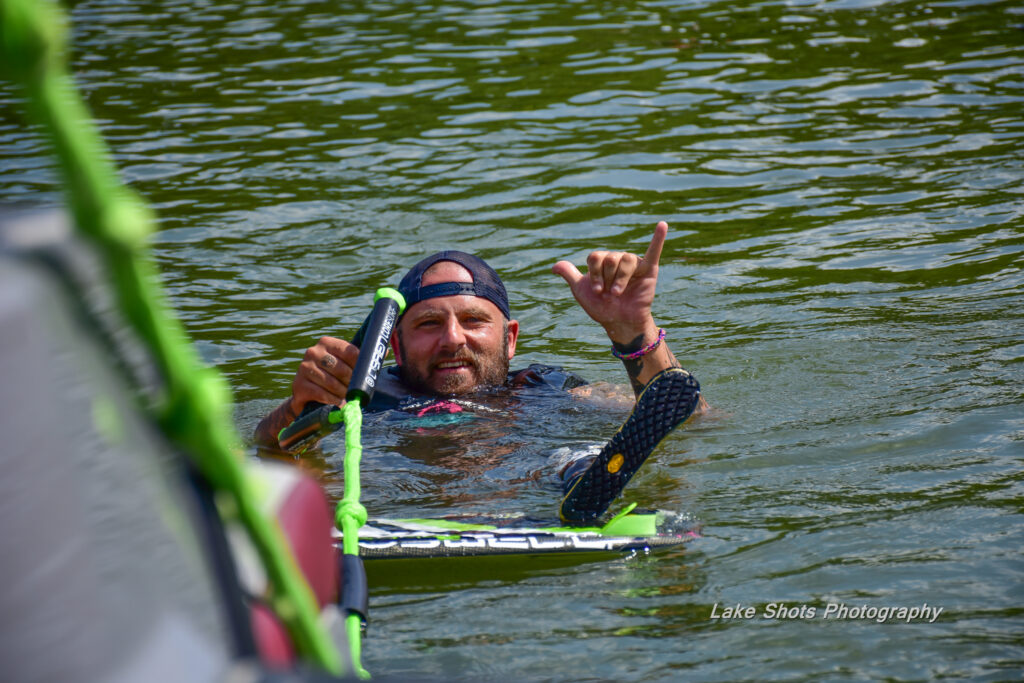 When MarineMax Lake of the Ozarks discovered Wake For Warriors, they knew it'd be the perfect organization to partner with. "We believe boating is life changing for many people. And if we can share that experience and help make a difference in the life of a veteran, we are all in," said Teresa Riley, marketing and events coordinator for MarineMax. 
"No one gives up, they improvise, and eventually everyone surfs. It's an amazing experience for everyone involved." – Teresa Riley
In July 2021, Wake For Warriors and MarineMax brought veterans to Lake of the Ozarks for a chance to get out on the water and wakesurf. Participating veterans, many who are adaptive athletes because of combat injuries, came from across the United States. 
"Learning to wakesurf is not always easy, especially with a disability, but the Wake For Warriors coaches are great at what they do," Riley said. "No one gives up, they improvise, and eventually everyone surfs. It's an amazing experience for everyone involved." 
Tyler Densford has been participating in Wake For Warriors since he was paralyzed from the chest down in a 2016 helicopter training accident. Before Wake For Warriors, he'd never tried watersports. "Skiing, wakesurfing, I never did any of that stuff. But to get out with other people and realize that you can still do stuff that even most normal people can't do. It's pretty fun," Densford said.
Then there's the camaraderie that's built through this unique experience. "Sharing stories with other guys and girls that faced tough stuff in life. You have that bond now even outside the water. I've gone through some stuff and you reach out to them or they reach out to you, it's just a good family," Densford explained. In another powerful moment, Densford got a chance to throw out the first pitch at a Chicago Cubs game, only a few weeks after wakesurfing on Lake of the Ozarks. He walked out to the pitcher's mound in full prosthetic gear, assisted by loved ones.
Wake For Warriors' Lake of the Ozarks event was a hit. With three Nautique boats and two full days out on the water wakesurfing, the group got a chance to enjoy the Lake to the fullest and sample a few Lake area restaurants. The group included first-time Warriors who were completely new to wakesurfing as well as repeat Warriors who were training to host events. A wakesurfing/wakeboarding competition, the Midwest Coast Wakesurf Open, dovetailed with the Wake For Warriors event: that introduced this unique nonprofit to a big—and uniquely interested—crowd of wakesports-loving boaters who came as spectators or competitors.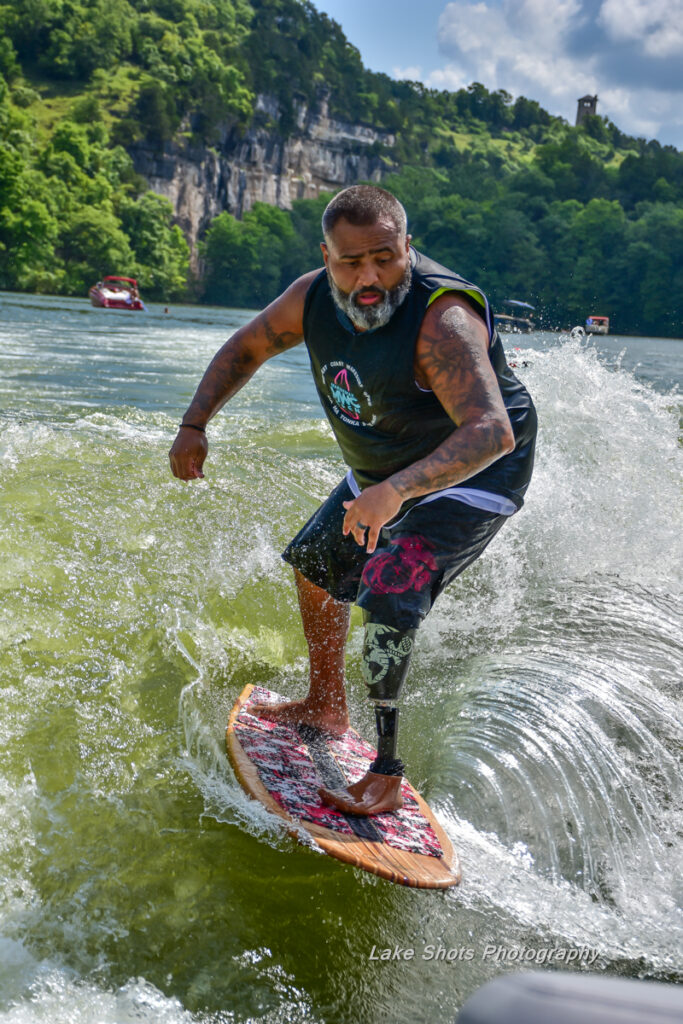 "There have been several people that have said it's the best we've ever had," Densford said of the event. "MarineMax is just the best, just above and beyond. They see what Wake For Warriors means and they're just all in, 100 percent. It was pretty awesome."
The event at Lake of the Ozarks raised $25,000 for Wake For Warriors beyond covering expenses for the participating veterans. Plans are already in motion for a second Wake For Warriors Lake of the Ozarks event in 2022. Organizers hope to expand the event to include more veterans and raise more money for Wake For Warriors. 
To learn more about Wake for Warriors visit https://www.wakeforwarriors.org. For more information or to donate to Wake For Warriors Lake of the Ozarks, contact Teresa Riley by calling 573-365-5382 or by email at teresa.riley@marinemax.com.