At JB Hook's, top-notch food meets an unforgettable view
When JB Hook's more than doubled their capacity with a sprawling new dining room and bar in 2019, it was a sign that they were doing something right. The second indication? The parking lot is full-to-overflowing all summer long, and customers fill every bit of that new dining space, enjoying delicious food and drinks, and watching the sun set over the Lake. Make reservations, and then prepare for an unforgettable evening! JB Hook's food and unmatched panoramic Lake view makes it a centerpiece of the Lake of the Ozarks' dining scene.
*To Eat*
Prime Rib – Blackened
Everything is better blackened. And with JB Hook's prime rib, this is doubly true. If you're one of those romantic "eat-off-each-other's-plate" couples, order the Extra Cut. Actually, just order the Extra Cut anyways — if you can't finish it, take home a box and it makes for the most delicious next-day prime rib sandwich.
As a side dish, if you're feeling that indulgent, go for the sweet potato fries. No one's pretending these are the "healthy option"… they're the delicious option. You can tell because they come with brown sugar sprinkled on top.
Hook's Stuffed Lobster Tail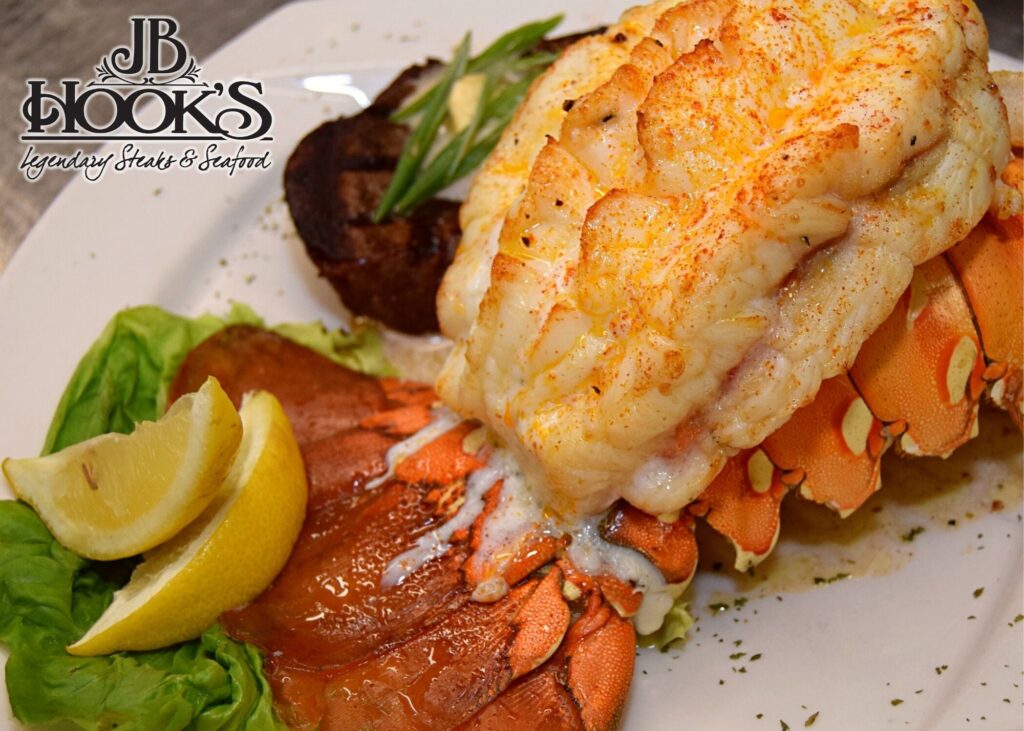 Hook's is the exclusive restaurant offering these one-pound-plus rare Canadian lobster tails. Purchased through local seafood supplier Coral Reef Seafood, their connections say there aren't any other high-end restaurants in Missouri offering this size tail. That's not because these lobsters aren't sustainable but very few lobstermen can find them! Only the "seasoned" lobstermen catch these, since this size of lobster does not come inshore, ever… they hide in frigid 700-foot deep waters of the Gulf of St. Lawrence, Atlantic.
These deep, clean waters produce this lobster's uniquely sweet and tender meat, for a dish you'll never forget.
*To Drink*
The Wine List
A glass of wine goes with nearly anything on Hooks' menu. And the wine list is, in a word, comprehensive. Nearly 30 wines sold by-the-glass, and well-over 40 sold by-the-bottle, not including a selection of limited reserve reds: there's the perfect glass to complement every JB Hook's dinner. Elevated wines like Cakebread make the cut, along with two types of port and Argentinian Malbecs.
Hook's Chocolate Kiss Martini
What's in it: Vanilla vodka, hazelnut syrup, white and milk chocolate liqueur.
Velvety smooth chocolate blends with a mild bite from the vanilla vodka for an indulgent sip on this dessert-in-a-glass. Two maraschino cherries perch like lipstick on the edge of the martini glass filled with Chocolate Kiss, and chocolate syrup laced along the inside of the glass makes this a drink to love.