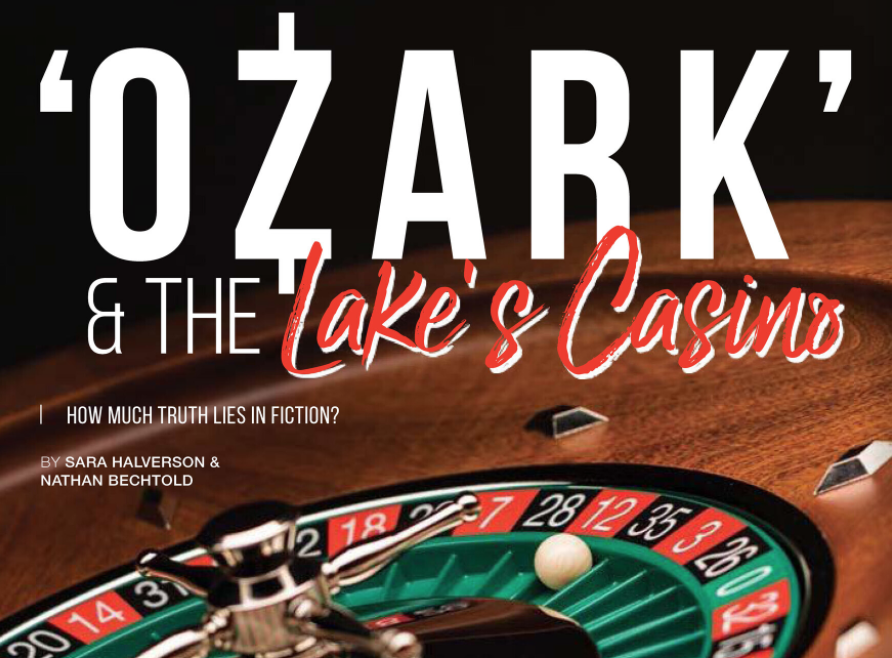 How much truth lies in fiction?
by Sara Halverson & Nathan Bechtold
Will Lake of the Ozarks ever have a casino?
To hear some tell it, the Lake has already had one. In the 1930s, Lakeside Casino was built by Union Electric after finishing the dam. The venue offered visitors restaurant and cafe dining with a view of the Lake and new dam. The Lakeside Casino was home to a restaurant and dock and later became known as Casino Pier. Drawing an eclectic group of folks for many years, one of the first chefs at the restaurant, Larry Albright, was known to drive his Cadillac around on sweltering summer days with the windows rolled up so folks would think he had air conditioning. Casino Pier was also home to the Captain Larry Don excursion boat, which cruised for decades on the Lake of the Ozarks as an event and party boat.
Built on the budding frontier of the Lake of the Ozarks, Lakeside Casino was not a public or legal gambling location, but especially in those early prohibition days, plenty of things are rumored to have happened behind closed doors…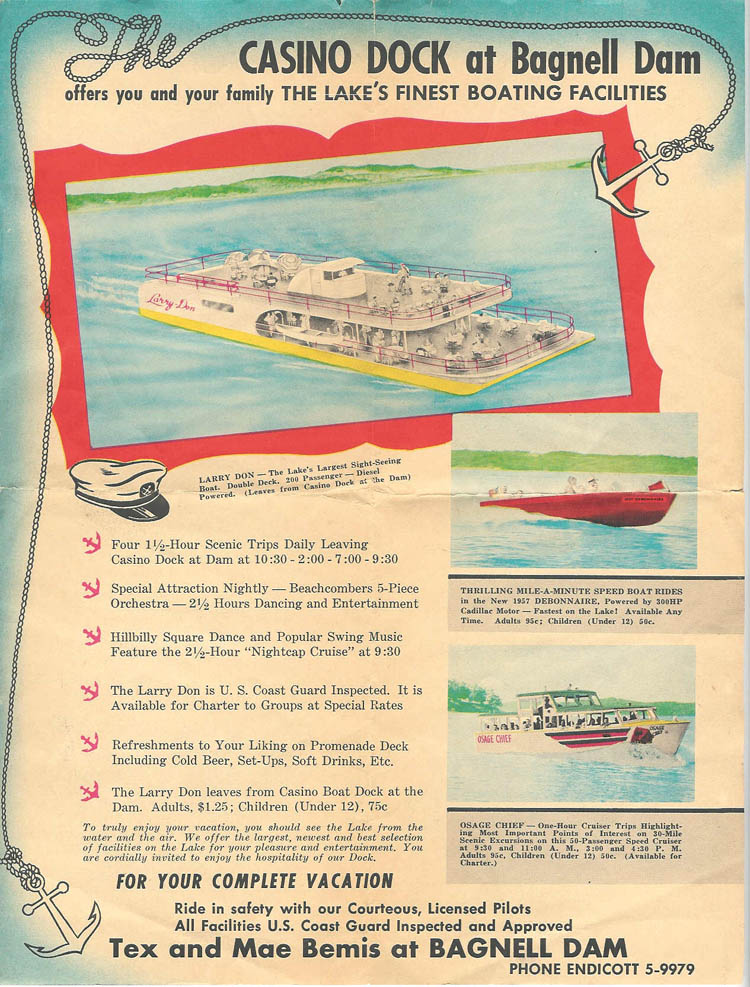 A Lake of the Ozarks casino has been pursued multiple times since then. In 2002, the Osage Indian tribe explored the possibility of putting a land-based casino at Lake of the Ozarks, but community leaders and local pastors stood against it, citing practical as well as moral arguments. Some eighty years after the construction of the Lake's first definitely-not-a-casino Lakeside Casino, in January 2020, Missouri State Rep. Rocky Miller (R-124) proposed a bill that would have offered the chance for casino gambling at (though not on) Lake of the Ozarks. A local group of investors says a casino on the Lake is "inevitable."
Decades of drama make perfect storytelling material, and the writers of the Netflix series Ozark, clearly saw the opportunity. Plot points in Ozark seasons two and three follow main characters Marty & Wendy Byrde's shady maneuvers to develop a casino on the Lake. For the Byrdes, this could be an easy way to launder money for a Mexican cartel. Ozark season three launched as Miller's bill refused to die in the Missouri legislature. Fans of the Netflix series began to wonder: "Is fact inspiring fiction? Or vice versa?" Is Ozark mirroring reality?
The short answer: yes, but with ample artistic license. Before a casino can be built—in reality, or in the Emmy-winning show—casino investors must overcome three barriers:
1) A state cap of 13 casinos
2) A rule requiring water-bound casinos
3) A coveted (and not guaranteed) operating license from the MO Gaming Commission
Here's how Ozark's plot compares with the real-world challenge of bringing a casino the Lake.