Shootout coverage by Jason Johnson & Matt Trulio — republished courtesy of SpeedOnTheWater.com
The Lake of the Ozarks Shootout has completed its 32nd year, and with 189 total runs by nearly 100 boats, the event was a success by any metric.
By spectators' standards, the two-day race didn't disappoint. The biggest nuisance was a lengthy rain delay on Saturday, but the biggest speed of the weekend was posted before the rains arrived, and plenty of boats raced after the delay ended. The ever-popular Shootout air show returned too, with a boat-vs-plane race because why not?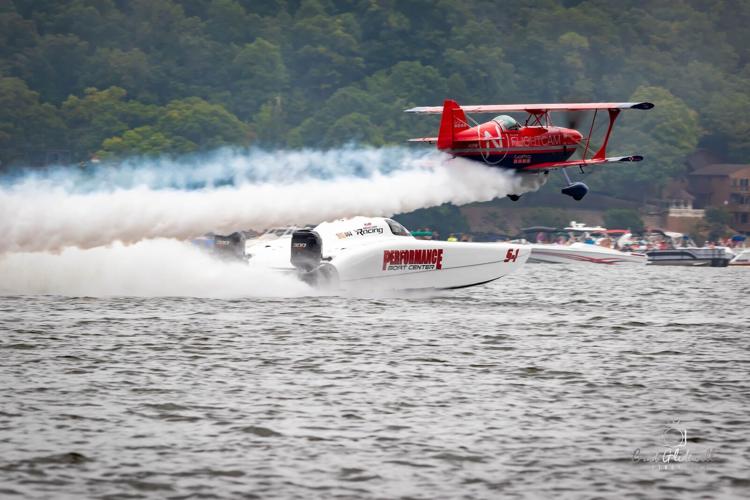 Of course, the racers measure the event in miles per hour, and each day brought its own array of speedy boats. American Ethanol posted the Top Gun speed of the weekend—202 mph—on Saturday, but Sunday saw plenty of runs well over 100 mph. SpeedOnTheWater.com's Matt Trulio and Jason Johnson's coverage of Day 2 is below…
With Factory Billet and American Ethanol, the biggest guns of the 2020 Lake of the Ozarks Shootout in the barn after yesterday's performances, the spotlight today turned primarily to a friendly battle of outboard engine-powered catamarans. That's isn't to say sterndrive cats and V-bottoms were absent from today's competition hosted at Captain Ron's Bar & Grill in Sunrise Beach, Mo.—far from it—but beyond the excitement about the turbine-powered Low Altitude Mystic, much of the attention centered around cats with dual outboards…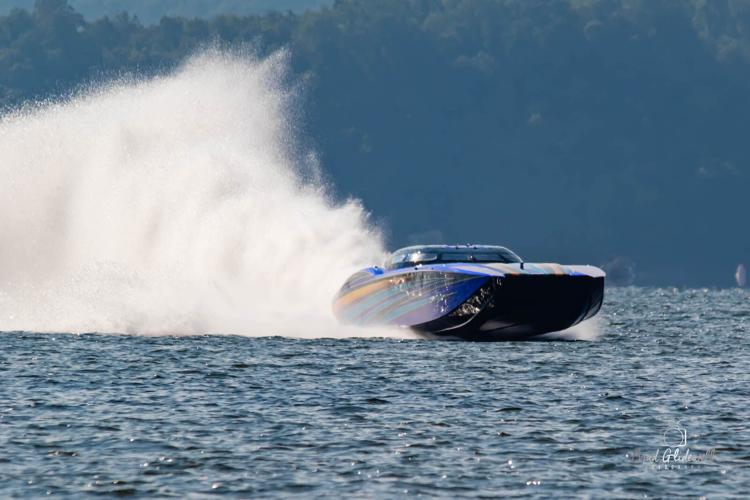 Cat Races
The fastest cat of the bunch, with a top speed of 127 mph, was the speedy 34-foot Victory Team-built catamaran powered by twin Mercury Racing 450R outboards that Victory Powerboats West owner Dale Dondel brought to the Shootout. The longtime performance boater from Southern California thoroughly enjoyed his first trip to the lake and made the most out of the top-speed event making two runs on each day…
On his second pass behind the wheel of the M37R, DCB's Tony Chiaramonte got it.
"I am pretty damn happy," he said. "When we left California I would have been happy with 118 because we had no setup time—we had six to eight guys working 15 days straight to get it here. I was happy with the first pass at 119 and was thinking, 'I hope I don't go slower on the next one.'
"I got a little straighter line and a little more rpm, and ran a bit closer to the cliff the second time and we got 120," he added. "All the people worked so hard to make this and all of those who were pulling for it were like, 'You guys crushed it.' I honestly believe this is the coolest and most-detailed sport cat on the market."…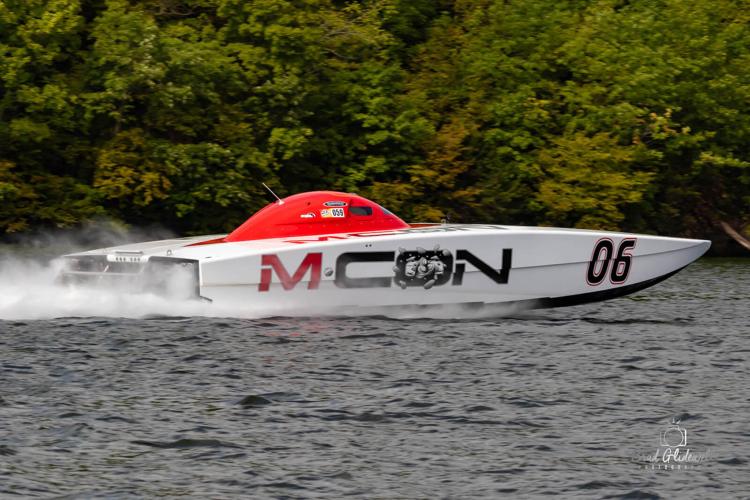 More racer interviews at SpeedOnTheWater.com
Center-Consoles Shine
In the outboard-powered center-console ranks, the fleet was smaller than normal. Matthew Resca brought his 37-foot Midnight Express with quad Mercury Racing 400R outboard engines that ran 82 mph. And as if she didn't have to do enough with last night's Shootout auction at Super Cat Fest that reportedly raised more than $200,000 for local charities—and speedonthewater.com was delighted to contribute a $1,000 donation—longtime event volunteer and another 2020 Hall of Famer Tiffany Maasen ran a Nor-Tech 340 Sport with triple 300-hp Mercury Marine Verado outboards to 74 mph…
More racer interviews at SpeedOnTheWater.com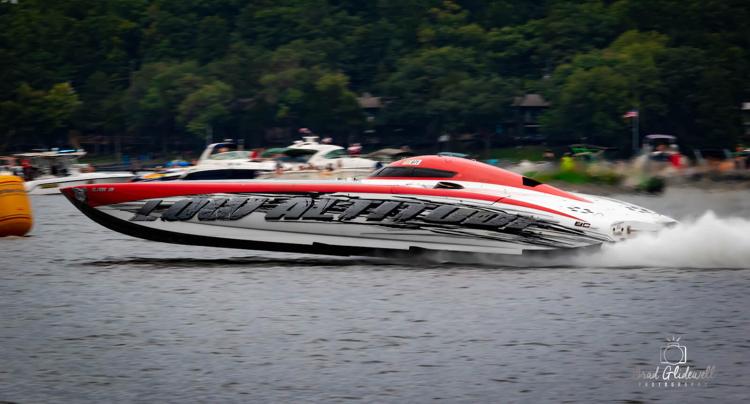 'Low Altitude' — Highs & Lows
Low Altitude 50-foot Mystic Powerboats catamaran owned by Shannon Hamilton put a ton of effort into getting back on the course after its disappointing 168-mph pass earlier in the day. The start boat even agreed to keep the course open a little later for the team as it tinkered with some fuel pump issues at the very end of the day while being towed out to the start line.
While it's hard to call any boat running 168 mph "disappointing," it was a letdown for Hamilton and his tuner and driver Russell Clay of Clay's Motorsports. The good news is, it didn't Hamilton's spirits and he vows to return next year, talking more smack than ever before.
"I guess you can call us Slow Altitude until we prove otherwise," Hamilton said then laughed. "Here's the thing, I came here last year running my mouth in the Gunslinger Nor-Tech and we blew a piston and we didn't run; then this year we come here with guns blazing and we went a whopping 168. Yes we had issues and could have went faster, but we didn't. So what does that tell me?  I need to come back next year and run my mouth even more."…
More racer interviews at SpeedOnTheWater.com
A New Top 'Toon
The pontoon fleet was still well represented thanks to the PlayCraft Boats team and the crew at Marty's Marine. The fastest boat of the bunch was Greg Barsoda's 27-foot South Bay powered by twin 450R engines that reached 83 mph in one of the last passes of the day. Mike Misplay of Horizon Motorsports in Lake Havasu City, Ariz., ran his twin 450R-powered 30-foot Trifecta a cool 82 mph on Sunday.
'Better Than Expected'
Overall, the Shootout saw 189 total runs on the three-quarter-mile course in two days, one of which was significantly impacted by weather. And, according to primary organizer Ron Duggan, more than 90 boats registered for the event, which is the second most since the run moved to Captain Ron's in 2008.
"We had more boats than we expected; in fact, the whole event was better than expected," Duggan said. "Not that we expected it to be bad, we just didn't know how many people were going to show up. Needless to say, we were blown away. The only negative was that the weather prevented us from getting more runs in. Still, it was another all-around success and this community and the 32 charities this run supports are going to reap the rewards."
Shootout coverage by Jason Johnson & Matt Trulio — republished courtesy of SpeedOnTheWater.com