While very little of the Netflix series Ozark was filmed at the lake where the story takes place, the show still resonates with those who live at Lake of the Ozarks or love to visit.
Not all Ozarkians appreciated Ozark's magnification of the drug and crime elements, and that's understandable. But some scenes, especially on the water, remind us of Lake life, in a déjà vu kind of way.
Here are a few…
(NOTE: Spoilers ahead! If you don't want to know what happens in seasons 1 and 2, put a bookmark here, go binge-watch the show, and we'll see you in a couple of days.)
1. The Blue Cat Lodge
This fictitious, outdated waterfront lodge is the setting for Marty Byrde's initial foray into money laundering. Here he learns the ropes (the hard way) and discovers who his allies and enemies are. While there is no Blue Cat Lodge at Lake of the Ozarks, the show's creator, Bill Dubuque, was inspired by his summer visits to Alhonna Resort as a teenager. And those visits left an impression that shows up in the series.
Marty's daughter Charlotte Byrde works at The Blue Cat Lodge as a gas dock attendant: a job many local teens take during the summer season. Once full of life and the laughter of families on vacation, years of Ozark climate and competition with fancier accommodations have weathered The Blue Cat into a charming time warp. It reminds long-time Lake of the Ozarks visitors of the many resorts that have come and gone. Even in 2017, The Golden Door Motel—a fisherman favorite for decades—said farewell after a 52-year run, making way for a new retail development. The Blue Cat Lodge recalls a simpler time when families only needed a cabin to sleep in and a restaurant to eat in. This setting embodies an inherent tension beneath life at the Lake of the Ozarks: past traditions that sometimes clash with the eternal drive for "new-and-improved."
2. Ruth And Marty's Jon Boat Outing — S1, E6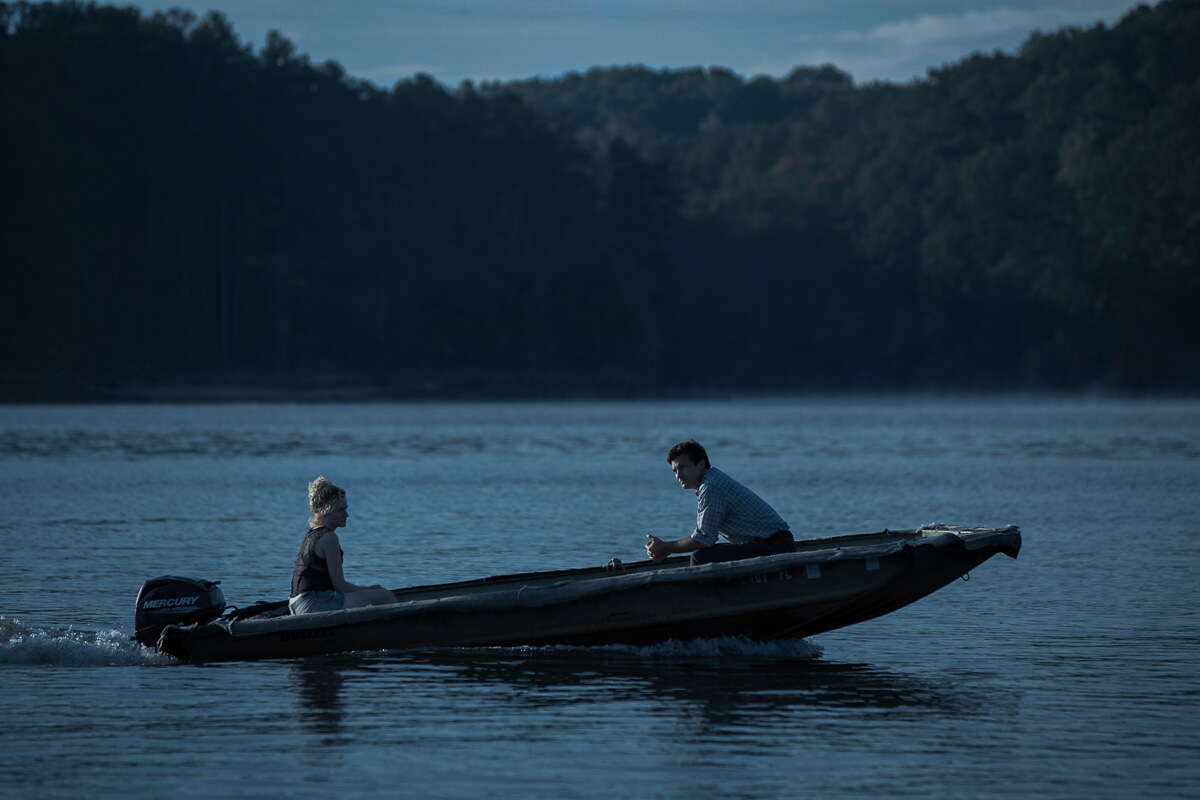 Jon boats are the quintessential all-purpose vessel in the Ozarks, useful for fishing, hunting and simple transportation. In fact, the humble vessel was often referred to as the "Ozark jon boat" in the 20th century. The flat bottom made them particularly useful when navigating shallow rivers and creeks before the Lake was built. The little boats still abound at the Lake.
Aboard a jon boat in one memorable scene, Ruth is hunting too, but her intentions are more diabolical. The boat is puttering toward a death trap—an electrified dock—mean to end Marty, leaving his money for Ruth. That plan doesn't go quite as she intends…