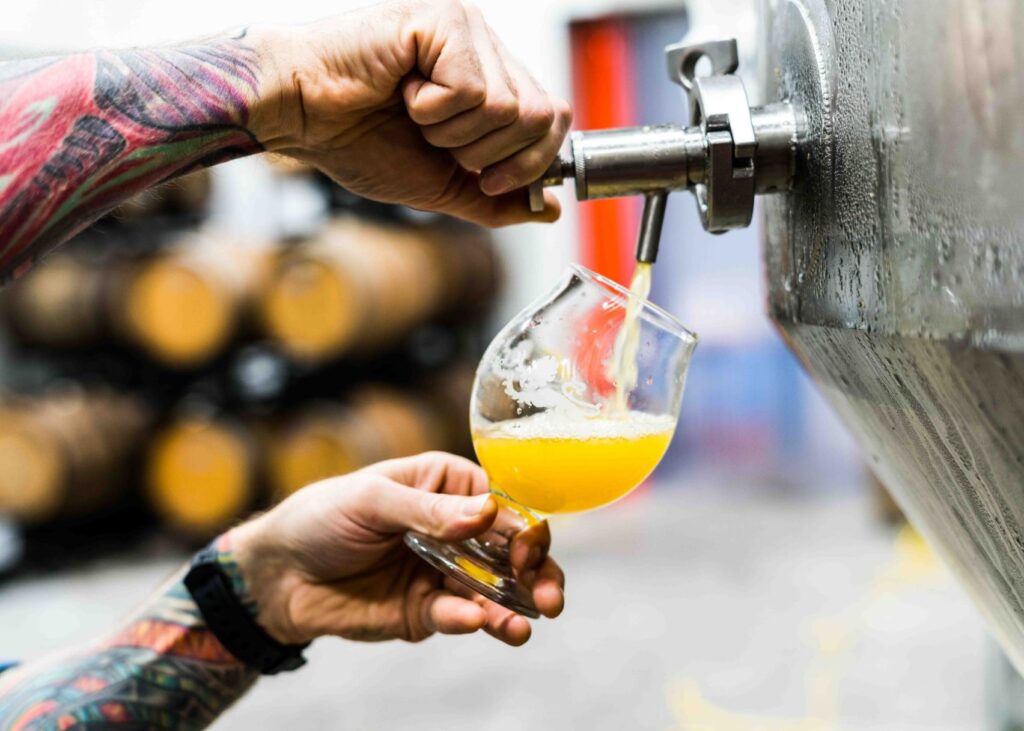 by Emily Debert
The number of breweries in America is at an all-time high. In January of this year, beveragedynamics.com predicted the total number of American breweries to exceed 8,000 in the not-too-distant future.
For Lake of the Ozarks residents and vacationers with an affinity for treating their palates to craft lagers, ales, stouts, and IPAs… or for those beer fans who've never experienced a brewery and just want to try something new, we've put together a list of great places to do just that, in the Lake area. Look below for where you should go.
But first, a crash-course in speaking "brewery" for those who are yet to become beer aficionados.
Basic Beer Lingo!
ABV: Alcohol By Volume. The higher the number, the higher the alcohol content.
Ale: A type of beer brewed using a warm fermentation method, resulting in a sweet, full-bodied and fruity taste.
IBU: International Bitterness Unit. The higher the number, the more bitter the beer.
IPA: India Pale Ale – A hoppy beer style with high levels of alcohol.
Lager: A kind of beer that is effervescent and light in color and body
Pilsner: A type of pale lager.
Stout: A dark, top-fermented beer with a number of variations.
Breweries & Diverse Beer Joints In The Lake Area
Ozark Distillery & Brewery
1684 Highway KK, Osage Beach, MO
573-348-2449
Ozark Distillery's Facebook Page
Ozark Distillery & Brewery is the first legal distillery in Camden County. They make small, hand-crafted batches of moonshine, bourbon whiskey, and several craft beers on site.
Ozark Distillery's Craft Beers:
Patio Pilsner – With a nod to the European pilsners you'll find a slightly sweet pleasant flavor profile with little bitterness. Think Stella Artois but with an Ozark twist. Our most approachable beer on tap. Light, crisp, and low alcohol. American Hops and German Pilsner Malt combine to make our version of a light beer. Patio Pilsner has a 4.5% ABV and 22 IBUs.
Mousekiller IPA – Easy IPA with less bitterness than most but still retaining the hop flavor and aroma. Centennial and Cascade Hops add a hint of citrus, grapefruit and fruit notes. Smooth and balanced. Great with Pizza! Mousekiller IPA has a 6.4% ABV and 52 IBUs.
Bourbon Barrel Stout – A big beer. Everything you'd expect in a stout with more. Chocolate and coffee notes combined with Ozark Distillery Bourbon gives this a complex flavor profile that evolves as you head to the bottom of the glass. Aged 6 months in a fresh Ozark Distillery Bourbon Barrel, this beer is in a class of its own. Bourbon Barrel Stout has a 13.5% ABV and 46 IBUs.
Lake of the Ozarks Brewing Company
6192 Osage Beach Pkwy, Osage Beach, MO
573-693-1993
Lake of the Ozarks Brewing Co.'s Facebook Page
Lake of the Ozarks Brewing Company's Craft Beers:
Damsel (in distress) Blonde Ale – AKA Double D Blonde. She's sweet and light and surprisingly not very bitter! This ale is brewed right in the original town named Damsel. Although the origin of the name is uncertain, Damsel established a post office in 1885 and remained in operation until 1920. Damsel Blonde Ale has a 4.5% ABV.
Osage River Red – The Osage River is 278 miles long comprised of two major Missouri Lakes: Harry S. Truman Lake and Lake of the Ozarks. The river itself was named after the Indigenous tribe, Osage Nation, meaning people of midwaters. Our Osage River red is a malty beer brewed with roasted crystal malts to give it a full body with toasted toffee flavors. Osage River Red is 5.8% ABV.
The Bagnell Dam Stout – named after the town Bagnell, was completed in 1931 as a hydroelectric power plant to service power to St. Louis. At the time of construction, it was the largest man made lake employing thousands to construct. This was a huge boost to the economy during the Great Depression. The Dam Stout has chocolate, coffee, and milk tones that make it a very smooth stout to drink. The Bagnell Dam Stout is 5.4% ABV.
Bees Knees Ale House
106 W Jasper St, Versailles, MO
573-539-2525
Bees Knees's Facebook Page
Bees Knees Craft Beers:
Electric Nectar Honey Blonde Ale – This Honey Blonde Ale is crafted with Midwestern malt to be crisp and smooth, and is Bees Knees's most refreshing beer with a mellow maltiness and light hop bitterness. Electric Nectar Honey Blonde Ale is 5.1% ABV.
Hazy Hive Hefeweizen – is a pale, refreshing German wheat beer with high carbonation, dry finish, a fluffy mouthfeel and a distinctive banana and clove character from the yeast. Hazy Hive Hefeweisen is 4.8% ABV.
Angus Sweat-Bee Sweet Stout – This beer is perfect for those who think that they don't like stout beer because it might change their perception. It has converted quite a few naysayers because of its rich taste, creamy mouthfeel and sweet finish with notes of chocolate and coffee.
Bees Knees also offers two rotating seasonal taps that usually have something very unique. Recent examples are their girl scout cookie inspired beers like the Thin Mint Blonde which has hints of mint and chocolate and the Samoa which has Coconut, Caramel and Chocolate blended nicely into the beer. Other fan favorites are the Osage Orange and Ozark Coffee Co. Stout.
Boat Town Brewing
18146 Campground Rd, Phillipsburg, MO
417-532-2772
Boat Town's Facebook Page
Boat Town Brewing's Craft Beers:
Wanderlust Wit – A traditional Belgian Wit brewed with ground coriander and orange peel. It's an ideal beer for spring – crisp and refreshing.
Pat McKilt – Boat Town's newest offering, and their St. Paddy's day release this year. It's an old school Dry Irish Stout, with all the dark roasted flavors and creamy foam you'd expect. But at 5% ABV, it goes down smooth and you can enjoy a few!
Perficle – This is Boat Town's flagship beer, and is a big, beautiful Imperial Stout that they age in oak whiskey barrels.
Pappo's Pizzeria & Pub
4705 Osage Beach Pkwy, Osage Beach
573-693-1092
Pappo's Facebook Page
Though not a traditional brewery, Pappo's Pizzeria & Pub boasts 32 beers on tap that are on a rotating list. They also feature anywhere from 4-6 "Pappo's Brews" on tap at all times!
Pappo's Craft Beers:
Monks Communion – A Belgian Ale that is made primarily with malt instead of hops, and has a smooth, cherry finish that quickly made this beer one of Pappo's most sought-after picks! With a high octane and a bold, smooth flavor, the MC is second to none.
Yes Please Blonde Ale – Not only is this golden beer visually appealing, but having no powerful malt or hop characteristics is what makes this Pappo's signature blond ale. Would you like a smooth taste of the lake life? Yes please!
Big Pappo Imperial IPA – Pappo's Big Pappo sets the bar for imperial IPAs. By combining strong hops and high ABV with a kick of bold flavor and aroma, Pappo's delivers this well-balanced craft. Having been named after the man himself, their Big Pappo resembles perfection.
That should be enough to get you started. Enjoy, and let us know which is your favorite Lake area brewery and why! Find LakeExpo on Facebook.