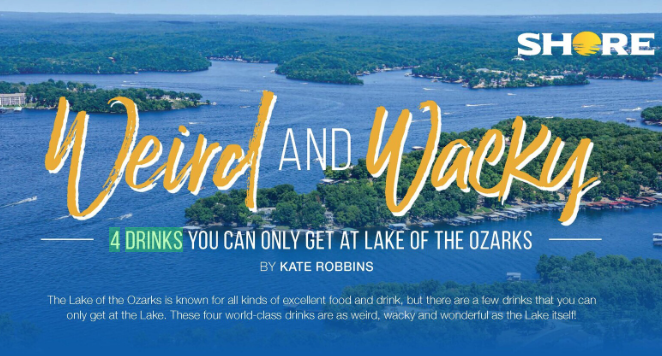 The Lake of the Ozarks is known for all kinds of excellent food and drink, but there are a few drinks that you can only get at the Lake. These four world-class drinks are as weird, wacky and wonderful as the Lake itself!
The Minnow Shot
The Minnow shot is one of the most iconic shots at Lake of the Ozarks. Made at the iconically named Big Dicks Halfway Inn, the Minnow Shot is XXX-ALCHOL that's topped with, wait for it, a live minnow! Despite any teasing you might get from the bar about how the minnow will swim around in your stomach, taking the minnow shot isn't much different then swallowing a large pill and with WAY more bragging rights. So if you're looking for the true-blue, Lake of the Oarks experience, come down to Big Dicks and don't be afraid to "shoot the minnow"!
Pain In The Ass
This pink and white slushie is half pina-colada and half rum-runner and 100% delicious.  Those new to the Lake might know this drink as the Miami Vice but down in the Ozarks, it's a Pain In The Ass. And Dog Days makes some of the best Pain's at the Lake. With a perfect mixture of tropical goodness at a great Lake-side pool-bar, Dog Day's is the top spot to try your first Pain! 
Lake Water
There's no surprise that the Lake Water is a Lake of the Ozarks classic. This fun and fruity drink is a mix of Malibu coconut rum, fruity liqueurs, Blue Curacao and pineapple juice. The Lakewater is my go-to at  JB Hooks and they do an excellent job creating the drinks' beautiful blue and green gradient and topping it with a bright red cherry. So if you've never had a Lake Water or it's an old favorite,  JB Hook's won't disappoint. 
Neon Colada
The Neon Colada is a relative newcomer to this list but it's sure to be a lasting Lake favorite. Only available at Neon Taco, the Neon Colada is a citrus delight made with coconut water, pineapple, fresh lime juice and a kick of coconut tequila.  The drink is smooth, refreshing and it's hard to stop at one! If you're down on the Strip and looking for something unique, come check out Neon Taco!